"Where"
---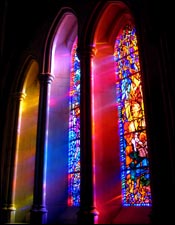 Jesus said to her, "Woman, why are you weeping? Whom are you seeking?" Supposing Him to be the gardener, she said to Him, "Sir, if you have carried Him away, tell me where you have laid Him, and I will take Him away." Jesus said to her, "Mary." She turned and said to Him in Aramaic, "Rabboni!" (which means Teacher). John 20:15-16
It's a hard thing when someone you love disappears.

Not knowing what has become of that individual, whether he is alive or dead is a terrible cross to bear. It is a cross the families of James Dennany and Robert Tucci have been bearing.

Ignorance concerning their loved ones was a cross they have borne for 41 years.

Over four decades ago, as they flew over Laos, Dennany reported there was a fire on board their jet. After that report there was only silence. For years the families waited for news. For years they hoped. Then, slowly, they tried to move on.

Recently, the Defense Department's POW/Missing Personnel Office announced it had identified the remains of the two men. Both have now been buried with full military honors at Dallas-Fort Worth National Cemetery.

Twenty centuries ago a lady named Mary was crying outside the tomb of her friend, Jesus. She was crying because her friend had turned up missing. His body was nowhere to be found.

Had His corpse been moved? Had it been stolen? Mary didn't know what had happened to the body of this most special individual.

Scripture tells us what happened.

Three days after Jesus laid down His life to save humanity, He rose from the dead. Having conquered sin and the devil, Jesus now showed mastery over humankind's last enemy: death.

It was an event that changed the world.

From that moment on there would be comfort for families when a loved one died ... if that loved one died holding fast to faith in Jesus as Savior. Even more, Christians were now blessed by the assurance that even though they may not know exactly where their loved ones were, the risen Christ knew and was by their side.

The risen Christ has promised to be with believers always, and that "always" includes men who were missing for 41 years in the jungles of Laos.

THE PRAYER: Dear Lord Jesus, we pray You may comfort those who mourn and give knowledge to those wracked by ignorance concerning their loved ones. Let them know that because You live, all who believe on You are safe, no matter where they may be. This I pray in Your Name. Amen.


In Christ I remain His servant and yours,

Today's Bible Readings: Genesis 23-24 Matthew 17
To Download Devotion MP3 to your computer, right click here and select "Save Link As" or "Save Target As" or "Download Linked File As"