"Here Today, Here Tomorrow"
---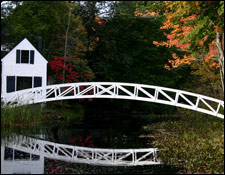 (Jesus said) "Heaven and earth will pass away, but My Words will not pass away." Luke 21:33
In 1969, Martin Franzmann wrote the hymn, "Thy Strong Word Did Cleave The Darkness." It has always been one of my favorites.

It may well be a favorite hymn of the folks at St. Paul Lutheran Church in Bonduel, Wisconsin.

About two years ago, while she was looking for some old baptismal records to show her students, teacher Debra Court stumbled upon a German Bible that had been published in 1670.

It's not the kind of find one expects to come across in Bonduel, Wisconsin -- or any other congregation I've visited in the last ten years. That's especially true since nobody at Bonduel has claimed the book or knows how the Bible got there.

This is part of the reason it took so long to have the book's importance verified.

After a few years the book was sent to Lyle Buettner; he works with the Special Collections Department at Concordia Seminary in St. Louis. He said the Bible was one of 40 or so known reprints of Luther's translation.

Amazing! I can only imagine what people must feel when they look through those pages, as they admire the illustrations. Every believer would be compelled to imagine the generations that had read, been touched, moved and saved by the story of the Savior's sacrifice.

For almost three and a half centuries those pages have shared the promises God made with sinful humankind. They spoke of our sin and the Savior's sacrifice, which moves us from hell to heaven and from damnation to salvation.

Of course you don't have to have a really old re-translation of Luther's Bible in order to appreciate the inspired Word and how it has come to us. In truth, all of us who own a copy of the Holy Bible have a direct link to the original writers and writings of Holy Scripture.

In every Bible we have God's unchangeable truth, which was penned by His inspired writers; in every Scripture God gives us all that is necessary to grant us eternal life.

THE PRAYER: Dear Lord, for sending Your Son to save me, for sharing His story in the Scriptures I have been given cause to give thanks. Now may I share the Savior and His Scriptures with others. In Jesus' Name I ask it. Amen.

In Christ I remain His servant and yours,

Today's Bible Readings: Job 41-42 Matthew 16
To Download Devotion MP3 to your computer, right click here and select "Save Link As" or "Save Target As" or "Download Linked File As"