"Long Term"
---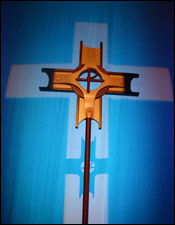 (Jesus said) "But seek first the Kingdom of God and His righteousness, and all these things will be added to you." Matthew 6:33
Keith Fitzhugh has played football in the NFL. First he played with the New York Jets and then with the Baltimore Ravens.

Now he has an opportunity to play with the Jets once again.

As Humphrey Bogart would say, "This is the stuff dreams are made of." Indeed, millions of men would give their eyeteeth for such an offer.

All of this makes Fitzhugh's decision to turn down the offer seem even more extraordinary. That's right, he has decided to keep his steady job with the Norfolk Southern Railroad rather than play football with the NFL.

When he was asked why, Fitzhugh said he had to "think long-term, not short-term. Not even for a team with a chance at the Super Bowl." "Right now", he said, "it's more important to help support" his family.

It sounds like Fitzhugh already is a winner.

Wouldn't it be nice if everybody had their priorities in order like Keith Fitzhugh -- if everybody thought long term, that is, about their eternal home.

The first step in thinking long term would be following the Savior's advice to "seek first the Kingdom of God." Jesus wanted us to know when God's priorities are our priorities a lot of things -- the really important things of life and eternal life -- will fall into place.

Now if you run through a list of your family and friends, you probably will find one or two who are thinking short term and chasing after something, maybe anything, other than the Kingdom of God and the righteousness that comes with it.

That's neither good nor wise.

Now since we do have those folks among our family and friends, today we're going to bring together tens of thousands of pray-ers and speak to the Lord about our short-term thinking friends and family. Won't you join me?

THE PRAYER: Heavenly Father, I give thanks You always have thought about what will happen to us in the long term. Because You have thought about our eternity, You sent Your Son into this world to offer Himself as our saving Substitute. Now I ask that (add the name of a family member or friend here) ____________ may also be given realigned priorities and acknowledge Jesus as his or her Savior. May he or she be given a faith that looks at things over the long term, including the Savior and eternity. In Jesus' Name. Amen.

In Christ I remain His servant and yours,

Today's Bible Readings: Genesis 13-15 Matthew 5:1-26
To Download Devotion MP3 to your computer, right click here and select "Save Link As" or "Save Target As" or "Download Linked File As"