"Don't Go There"
---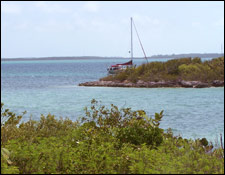 (Jesus said) "My sheep hear My voice, and I know them, and they follow Me. I give them eternal life, and they will never perish, and no one will snatch them out of My hand. My Father, who has given them to Me, is greater than all, and no one is able to snatch them out of the Father's hand." John 10:27-29
Internationally recognized explorer, author and adventurer Hendrik Coetzee liked to pit himself against nature.

The 35-year-old South African's most recent challenge was leading a kayak expedition from the source of the White Nile into the Congo interior.

It was a trip filled with dangers -- dangers Coetzee understood and accepted.

Even so, many of his friends probably wish he had been a little more cautious. According to the Associated Press, Coetzee's traveling companions were horrified to watch helplessly as their leader was snatched out of his kayak by a Nile crocodile.

The explorer's body has not been found.

Now this Daily Devotion could talk about how there are some places we shouldn't go. After all, there is something to be said in favor of avoiding situations where there are giant crocs.

Instead, it might be better to point out there are dangers far worse than a hungry Nile crocodile.

For example, there is the devil, he's walking around like a roaring lion. Then there are those nasty temptations that seem to jump out of the darkness when you least expect them.

All in all, life can be pretty frightening.

This is why Jesus' promise is incredibly important and comforting. Listen again to what He says: "No one will snatch them out of My hand."

No one. That, my dear friends, is all inclusive. There are no exceptions, no hidden clauses, no loopholes. Jesus, the Savior who lived, died and rose to win our salvation is in control.

He is in control on the day we die and in control every day we live.

THE PRAYER: Dear Lord Jesus, all around me there are hidden dangers, dangers too big, too fast and too strong for me to deal with. Today I ask that You will protect me from all that would harm me both spiritually and physically. To that end, I commend myself into Your care. For hearing me, I give thanks. Amen.

In Christ I remain His servant and yours,

Today's Bible Readings: Genesis 10-12 Matthew 4
To Download Devotion MP3 to your computer, right click here and select "Save Link As" or "Save Target As" or "Download Linked File As"