"Our Microcosm"
---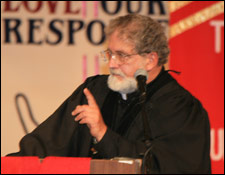 For freedom Christ has set us free; stand firm therefore, and do not submit again to a yoke of slavery. Galatians 5:1
Nobody would expect Soddy-Daisy High School in Hamilton County, Tennessee, to be front-page news.

Even so, it is.

After he received a complaint from Wisconsin's Freedom From Religion Foundation, the superintendent of the county's school system decided to stop all public prayers before sporting events.

But not having prayers over the loudspeaker system hasn't stopped the Holy Spirit from working.

One of the local pastors reports a player on the football squad got up and said, "I'm tired of the life I've been living. I'm tired of the same old thing. The drugs (are) not satisfying me, but if you say this God can satisfy me, then I want in."

That was some time ago. Now, that same pastor reports over half of the members on the football team have been baptized.

And, from what I've been told, all of the football team still prays.

This all goes to prove the best-laid plans of the Freedom From Religion Foundation can go astray if the Lord decides differently.

Now the reason I share this story is simple. It is my belief all of us ought to give a prayer of thanks for these courageous young people of Hamilton County. We ought to encourage all the young people of courage who have, by the Holy Spirit's direction, decided to take a stand for the faith the Savior has won and the Holy Spirit has given.

We need to share this story with all our young people and encourage them to take their stand of faith.

Now, I don't know how the Soddy-Daisy High School football team is going to do this season; I'm not even able to keep abreast of their win-loss record.

Even so, I have to think that they, knowing Jesus as their Savior from sin and their Redeemer from death and devil, are big-time winners already.

THE PRAYER: Dear Lord, for young people all around the world who take a stand for the Savior who gave His life for their salvation, I give thanks. May they, throughout their lives, be able to resist the temptation to cave in to the pressures this world will bring against them and their Savior. For their sakes, I ask it in Jesus' Name. Amen.

In Christ I remain His servant and yours,

Today's Bible Readings: Jeremiah 34, 37-38 Hebrews 10:1-18
To Download Devotion MP3 to your computer, right click here and select "Save Link As" or "Save Target As" or "Download Linked File As"