"The Future"
---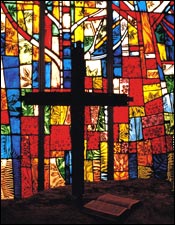 God is our refuge and strength, a very present help in trouble. Therefore we will not fear though the earth gives way, though the mountains be moved into the heart of the sea. Psalm 46:1-2
We all know the world is in a terrible state.

There are a lot of people who feel that way. Maybe that's why none of us would be surprised to hear someone, even a famous someone, say, "I dare not marry; the future is so unsettled."

Of course, we might be surprised to find out the man who said those words was William Wilberforce, and he said them in 1801.

Wilberforce has not been alone with his feelings of despair. In 1806, William Pitt, an English statesman, said, "There is scarcely anything around us but ruin and despair."

We're still not done. Then there's Disraeli, one of the greatest of English statesmen. He was quoted as saying, "In industry, commerce, and agriculture, there is no hope." That's pretty depressing for somebody speaking in 1849.

Hearing those voices from the past may almost bring a smile to the faces of those who live in this topsy-turvy world.

We think how quaint they were. They really didn't understand that things can and do get worse.

If you feel that way, I want you to start looking up. Not because I say so, but because God says so. He has, through His Son's sacrifice, through Jesus' life, suffering, death, and resurrection promised that He -- not evil -- will have the final say in your life.

The world may be in a downward spiral, but you don't have to be.

The Lord wants to be your Refuge and Strength. He has volunteered to be a very present help.

This is why today and every day, I encourage you to turn your fears over to Him. He knows what to do with them and He knows how to handle them.


From a devotion originally written for "By the Way"



THE PRAYER: Heavenly Father, because of sin the world is not the most cordial of places in which to live. Indeed, there are times when we become discouraged. Keep up from falling victim to the devil's tools and keep us strong in the faith as we place ourselves in Your hands. Direct us in the paths You would have us go. In Jesus' Name. Amen.

In Christ I remain His servant and yours,

Today's Bible Readings: Isaiah 53-55 Romans 10
To Download Devotion MP3 to your computer, right click here and select "Save Link As" or "Save Target As" or "Download Linked File As"