"A Shot In The Dark"
---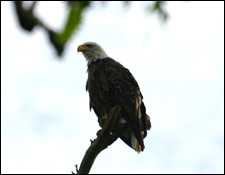 Let us live decently as in the daytime, not in carousing and drunkenness, not in sexual immorality and sensuality, not in discord and jealousy. Romans 13:13
The Polish man living in Germany liked to party. He also liked to drink.

Since the man liked to do both partying and drinking together -- and in quantity -- he is unable to clearly remember everything about the past. He does, however, recall how, on New Year's Eve, somewhere around 2004 or 2005, he had been given a shot to the noggin.

The next day he awoke to a throbbing head, but he didn't bother to go to the doctor for what he assumed was a hangover.

Even so, his head did bother him a little bit. That's why he decided to go to the doctor to get some help removing what he thought was a cyst.

What the man had wasn't a cyst.

What he had was a .22-caliber bullet lodged in the back of his brain. The wound had healed over and left him with reoccurring headaches as a reminder.

Later, after the surgery, he was given the .22-slug as a second reminder. A reminder to do as Paul suggests in Romans: live decently; avoid carousing, immorality, and discord.

You probably don't need me to remind you that the epistle to the church in Rome was written for us, as well as those Christians who lived so many centuries ago.

That means the passage also applies to us. Indeed, the Lord Jesus who gave His life as a sacrifice to win our salvation is honored when we, converted and forgiven, live out our days showing our gratitude and how we wish to honor Him.

Oh, in case you're wondering, the German police aren't looking for an unsuccessful shooter. They think it's more likely our Polish man had been nailed by a bullet somebody shot into the New Year's Eve sky so many years ago.

THE PRAYER: Dear Lord of Life, for having rescued me from the dangers of this life, my thanks. Now, I pray that this day will be filled with opportunities to give my days as a thank offering for Your great graces. I ask this in the Name of the crucified and ever-living Redeemer. In His Name. Amen.

In Christ I remain His servant and yours,

Today's Bible Readings: Isaiah 3-4 2 Corinthians 12
To Download Devotion MP3 to your computer, right click here and select "Save Link As" or "Save Target As" or "Download Linked File As"