"A Famous Kiss"
---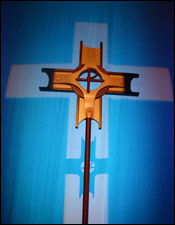 While He (Jesus) was still speaking a crowd came up, and the man who was called Judas, one of the Twelve, was leading them. He approached Jesus to kiss Him. Luke 22:47
Nurse Edith Shain has passed away at the age of 91.

It's quite possible you don't know the name Edith Shain.

You may not know her name, but you could probably recognize Shain's picture. She and a sailor were caught kissing in Times Square by photographer Alfred Eisenstaedt.

The picture of Shain's lip lock with a still unknown sailor was flashed around the world and was even featured in LIFE magazine. The photograph, taken on August 14, 1945, became the symbol for the joy everyone experienced at the end of World War II.

No question about it, Shain's kiss is one of the most famous in the history of the world.

Hers is one of the most famous kisses, but it's not the most famous kiss. There is another kiss which is far more famous, or maybe it's better to say, infamous.

The dubious distinction of most infamous kiss belongs to one of Jesus' trusted disciples: Judas Iscariot. No, there can be little doubt the most notorious kiss in all of history is the one which Judas tried to give as he betrayed Jesus into the hands of those who hated Him.

The kiss of Judas: it was an action which signaled the beginning of the Savior's final suffering and sacrifice -- the suffering and sacrifice that would end with the Lord of Life hanging upon a rough Roman cross outside the city walls of Jerusalem.

Over the years, I've often thought -- in its own way -- this kiss of Judas had to be almost as painful to Jesus as was His cross. Some of us know what it feels like to be betrayed by a friend, a student, or someone who is supposed to be unquestioning in his loyalty. That's the way it should have been between Judas and Jesus. It's the way it should be between us and the Redeemer. It should be, but sometimes isn't.

We must admit there are times when we disregard what Jesus has done for us and choose to live as we want, not the way He wants. We all do things which are a betrayal of the relationship which He established on Calvary and at His open and empty tomb.

True, like Judas we all betray Jesus. Unlike Judas, however, we ought to recognize Jesus has carried our sins -- all of our sins -- to the cross. Unlike Judas we need to remember that we cannot atone for our sins; we cannot and we need not. Jesus has done it all. This is why we need to remember our sins are forgiven and forgotten. Because of Jesus, they are no more. And for this we give thanks.

THE PRAYER: Dear Lord Jesus, for my sins, I can only offer a repentant heart and a plea that I might be given a clean heart. May I live my days praising -- not betraying -- You. In Your Name. Amen.

In Christ I remain His servant and yours,

Today's Bible Readings: 1 Kings 19-20 Acts 13:26-52
To Download Devotion MP3 to your computer, right click here and select "Save Link As" or "Save Target As" or "Download Linked File As"