"Waiting"
---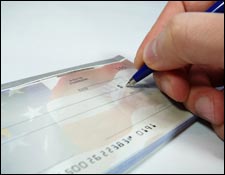 I wait for the Lord, my soul waits, and in His Word I hope; my soul waits for the Lord more than watchmen for the morning, more than watchmen for the morning. Psalm 130:5-6
Did you ever wonder how much does a watchman wait for the morning?

It's a good question. Probably about as much as the person in New York who recently found a briefcase containing nearly $80,000.

As is required by law, the finder advertised for the owner. In his ad, he wrote, "If you can describe the other items inside, I will return ... if not, I am taking (the briefcase) to the police and after no one claims it, I think I can legally own this."

That kind of honesty is pretty impressive, don't you think? I know we shouldn't be surprised when a person does the right thing ... even so, $80,000 is a lot of money.

But back to the watchman and the longing for the morning.

It appears the finder of the money was pretty sure nobody was coming forward to claim the cash. Even more, he seems to be equally pretty sure -- after a brief waiting period -- he or she would be richer by a big bundle of bucks.

Not so.

According to New York State law, the police must hold the money for ten days and three years.

Ten days and three years! Now that's a long time to wait.

I imagine three years and nine days from now that person is going to be really, really, really longing for that money.

That's how much our souls should long for the Lord.

It makes sense, doesn't it? The Lord, through the sacrificial work of His Son, our Savior, is giving us a gift we didn't deserve and which we never earned. Through Jesus' suffering, death, and resurrection we are granted faith, forgiveness, and eternal life.

Even more -- He doesn't put into effect any law which says we have to wait ten days and three years to get these wonderful blessings. Through the workings of the Holy Spirit, God's gifts are here; they are now; they are ours.

This is just one reason our souls should long to be brought ever closer to our good and gracious God.

THE PRAYER: Dear Lord, there are times when we all fail to appreciate the wonderful gifts You have given. Truly, they are worth much, much more than a paltry $80,000. Because of Jesus' selfless sacrifice I have been saved. Now may my heart long to be brought ever closer to You. This I pray in the Name of my ever-living Redeemer, Jesus. Amen.

In Christ I remain His servant and yours,

Today's Bible Readings: Judges 4-6 Luke 13:1-22
To Download Devotion MP3 to your computer, right click here and select "Save Link As" or "Save Target As" or "Download Linked File As"