"Goose And Gander"
---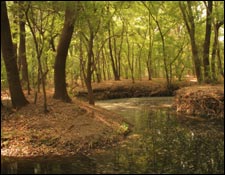 Train up a child in the way he should go; even when he is old he will not depart from it. Proverbs 22:6
Dale Halferty teaches industrial arts at Guthrie Center High School in Iowa. Recently, Halferty was given a five-day unpaid suspension for insubordination.

The suspension came because Halferty refused to allow a student to build a Wiccan altar in shop class. (For those who don't know the word, "Wiccan," it means the student is a practicing witch.)

The student's project was designed to help him worship his goddess.

Now the school's officials believe the boy has the right to express his religious beliefs in school assignments. Halferty believes there should be a separation between Church and State.

He also believes he is obligated to take a Christian stand for what he believes is right or wrong. Halferty doesn't believe worshipping rocks and trees is right. In this he is joined by almost 70 of the school's students who also don't wish to have witchcraft practiced at school.

Having said all this, Halferty did tell the boy he could build his project, but he had to leave his religious materials at home. When the student kept coming back to class with a book on witchcraft, Halferty asked the student to stop working on the project. To be fair, Halferty had done the same sort of thing when a student started to build a cross in class.

Now, this devotion isn't really about Halferty, and it isn't about shop class, and it isn't about freedom of speech, or even the community's principal, or its superintendent.

It is about training up a child in the way he should go.

I get worried when I hear of a student whose parents allow him to be a Wiccan. I am concerned when the student doesn't follow a reasonable request made by a teacher. I get disturbed when I see such a lack of respect for authority.

Applying the Proverbs passage to the story of this unnamed young man causes me to wonder. I wonder if he feels it is his duty to confront a teacher, to challenge authority, or to push his theology in the public school setting. What will he do and what will he be like when he is an adult.

This is why our prayers today are for such people.

THE PRAYER: Dear Lord, Proverbs tells us that adults will remain loyal to what they have been taught. Today we pray for all the young people who are being taught wrong things, foolish things, next to nothing. Send Your Holy Spirit upon family and friends that they may motivate young people to goodness, godliness, and Jesus. If possible, grant a direction to a shop teacher who is trying to make a stand for his faith and the Savior in whom he believes. This I ask in Jesus' Name. Amen.

In Christ I remain His servant and yours,

Today's Bible Readings: Numbers 20-22 Mark 15:26-47
To Download Devotion MP3 to your computer, right click here and select "Save Link As" or "Save Target As" or "Download Linked File As"