"Unsurprised"
---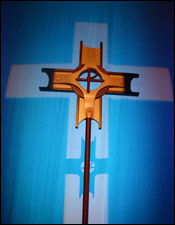 (Jesus said) "Peace I leave with you; My peace I give you. I do not give to you as the world gives. Do not let your hearts be troubled and do not be afraid." John 14:27
The writer of the article referred to the Lord as "The Big Man Upstairs."

That's the way people talk when they're trying to be cute, or when they're trying to be politically correct, or when they really don't know much about religion, in general, or Christianity, in particular.

For the rest of this devotion, we are going to put the phrase "the Big Man Upstairs" to rest and refer to the Triune God.

The Fox article spoke of a study done by the University of Toronto.

That great school had reported that "believing in God can help block anxiety and minimize stress." The university had also discovered that there are "distinct brain differences" between believers and nonbelievers. That study came out a year ago.

Now there is a new study which has been released by Rush University Medical Center in Chicago. That study says patients who have been diagnosed with clinical depression respond better to medical treatment if they believe "in a concerned God." The study says the important word in these folks needs is a "caring" God. Folks who had a strong belief in a personal God -- in a God who was involved with them and their future -- were more likely to experience improvement.

Now, if I may summarize, this is what I think these learned people are saying:

• If you have a Savior who says to cast all your cares upon Him, you can be sure He will help you.
• If you have a Savior who is by your side, your anxiety is minimized and your stress decreases.
• If you have a God who has numbered the hairs on your head, if you have a God who cares about what happens to you as an individual, if you have a God who has sent His Son to save you from sin, death, and devil -- you can be sure He will lift you up.

The text for today's devotion is right. We who believe in Jesus have been given a peace which the world cannot give. We who believe in Jesus are gladdened for a Redeemer who forgives, comforts, defends, and strengthens. We who believe in Jesus no longer need to be troubled or afraid.

THE PRAYER: Dear Lord, because of You my sins are forgiven; my punishment is erased, and I am saved. Now may I reflect the peace You give the troubled hearts and lives of others. Let them see Your blood-bought peace, which can comfort the most troubled and frightened of souls. In the Savior's Name I pray it. Amen.

In Christ I remain His servant and yours,

Today's Bible Readings: Numbers 3-4 Mark 12:28-44
To Download Devotion MP3 to your computer, right click here and select "Save Link As" or "Save Target As" or "Download Linked File As"