"Sure Deliverance"
---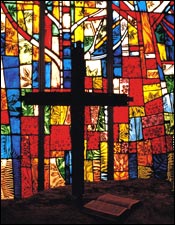 And call upon Me in the day of trouble; I will deliver you, and you shall glorify Me. Psalm 50:15
A few weeks ago the roads of Pittsburgh were packed with snow.

It was during this time that 50-year-old Curtis Mitchell called 911 for help. He said his "entire stomach [was] in pain."

Two hours later Curtis would call again. That's the call where he asked, "What's the holdup on the ambulance?" Nobody had called him and said the emergency vehicle hadn't been able to get there because of snow.

In the next 28 hours, Curtis and his girlfriend, Sharon, would call again.

And again. And again. And again. And again. And again. And again. And again.

If you skipped over that last line or if you haven't been counting, Curtis and his girlfriend called for help ten different times. By the time that last call was made by Sharon, her boyfriend had stopped breathing and when she touched him, he felt cold.

Curtis Mitchell died while waiting for help.

Public Safety Director Michael Huss said, "We should have gotten there. It's that simple." Mayor Luke Ravenstahl said, "It's unacceptable what happened; it needs to change. We're talking about somebody who lost their life, and it's no small matter."

It's a sad thing when people call for help and don't get it, isn't it? This is why the Lord's promise in Psalm 50 is so important. God says if we call upon Him in our days of trouble, He will not only hear us, but He will deliver us.

Now, that's a broad kind of promise that might make people ask, "Really? Can we be sure?" If that's where you're coming from, if that's the question you're asking, I'd like to tell you the answer: "Yes!"

When Adam and Eve were kicked out of the Garden, God gave them a promise of delivery. When the Children of Israel cried because of their enslavement in Egypt, God delivered them. When sinners came to Jesus, He delivered and restored them.

So we might be delivered from sin, Satan, and death is why Jesus was born. It is why He lived His life and died our death.

Now, because of His third-day resurrection from the dead we can be sure of our blood-bought deliverance and salvation.

THE PRAYER: Dear Lord Jesus, I give thanks You have sacrificed Yourself for my deliverance from sin. Grant me the grace and ability to share Your story with those who still live under the burden of their transgressions. Let them learn how to call upon You in the day of trouble. In Your Name. Amen.

In Christ I remain His servant and yours,

Today's Bible Readings: Leviticus 13 Mark 7:14-37
To Download Devotion MP3 to your computer, right click here and select "Save Link As" or "Save Target As" or "Download Linked File As"