"Equal Love, Unequal Distribution"
---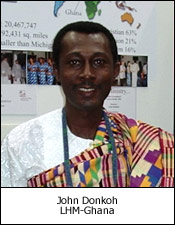 How great is the love the Father has lavished on us, that we should be called children of God! And that is what we are! . . . 1 John 3:1a
Dear Brothers and Sisters in Christ:

The salvation story of Jesus Christ reaches around the world. So that the readers of our Daily Devotion may see the power of the Savior on a global scale, we have asked the volunteers of our International Ministry Centers to write our Friday devotions. We pray that the Spirit may touch your day through their words.

In Christ, I remain, His servant and yours,
Kenneth R. Klaus
Speaker of The Lutheran Hour



Two men returning from work walked past a construction site where a building was going up. One of them wondered how someone could construct a building while others cannot even afford to buy a meal. "And you tell me God loves everybody equally. No, He does not," he asserted authoritatively. He continued, "In this world, some have children, and some do not; some have bank accounts full of money; others can't buy ordinary salted fish for their soup." Then, he chuckled, a joyless, resigned type of laughter.

The man's opinion of God's love is based on his perception that God's distribution of the world's goods is unequal. The man thought that considering the evidence thus far advanced, it could not be said that God loves everyone equally because of the disproportionate way He distributes the world's goods and blessings. Actually, looking at all the inequalities in life, it is surprising the man thought there was any God at all -- let alone a God who loves. Many have written off God completely, not only in view of life's great inequalities, but also in view of such things as tragedies, sufferings, and pains.

This problem has troubled the people of God too. It troubled Job, David, Habakkuk, and others. But pains or no pains, suffering or no sufferings, those who believe God's promises and salvation -- which He offers us through His Son Jesus Christ -- will get to heaven some day.

The story of Christmas and Calvary are ample demonstrations of God's love. The Word of God says, "For God so loved the world, that He gave His only Begotten Son, that whoever believes in Him shall not perish but have eternal life" (John 3:16). God is love, and we find abundant promises of that love through His Word.

Questioning God's seeming unequal distribution of material goods makes it sound as if the wealthiest people are the happiest or most blessed. That simply isn't true. It was a wise man who prayed in the book of Proverbs, "Two things I ask of You, O LORD; do not refuse me before I die: Keep falsehood and lies far from me; give me neither poverty nor riches, but give me only my daily bread" (Proverbs 30:7-8). You see, riches come and go. For no condition is permanent in this world. But the love of God endures forever; His faithfulness is to all generations.

The measure of God's love should be taken not from that which may fail at any time, such as the number of houses a man builds, or how many children he has, but from that which lasts for all time. And that is the salvation He has secured for all through the birth, death, and resurrection of His Son, Jesus Christ. You and I may never have enough worldly goods. But Jesus Christ is enough -- sufficient for you and for me.

THE PRAYER: Our God and Heavenly Father, teach us to know that You love all people irrespective of their rank in society. Our sufficiency is only found in knowing You and living under Your care. Give us Your Spirit to look up to only You. In Christ's Name. Amen.

Biography of Author: John Donkoh, director of Lutheran Hour Ministries' foreign office in Accra, Ghana, wrote today's devotion. In that West African nation of almost 24 million, LHM-Ghana employs music, dance, and storytelling to tell others about Jesus Christ. It also utilizes Equipping to Share (ETS), Project JOEL, and Bible Correspondence Courses (BCC) as a means of furthering the Gospel.


To learn more about our International Ministries, click here or visit www.lhmint.org.

Today's Bible Readings: Genesis 1-3 Matthew 1
To Download Devotion MP3 to your computer, right click here and select "Save Link As" or "Save Target As" or "Download Linked File As"