"Don't Get Confused"
---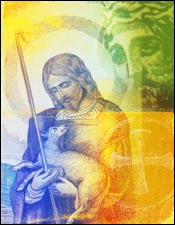 (Jesus said) "What woman, having ten silver coins, if she loses one coin, does not light a lamp and sweep the house and seek diligently until she finds it? And when she has found it, she calls together her friends and neighbors, saying, 'Rejoice with me, for I have found the coin that I had lost.' Just so, I tell you, there is joy before the angels of God over one sinner who repents." Luke 15:8-10
The 82-year-old lady from Hildesheim, Germany, hadn't lost one of her coins.

Two years ago she lost her car, an Audi. Well, "lost" is really not the right word. Her Audi was stolen.

Two years ago she took her car in to be repaired. After doing the work, the mechanics took it back to her house and parked it in her garage.

The next day, after she had recovered her keys and papers from her mailbox, she went to the garage to collect her car and do some errands.

To her shock, the car was gone. She reported it stolen and that was that.

That was that until last week. That's when a neighbor went to clean up his garage -- the garage that he never uses. Sure enough, there, under about "a centimeter-deep coating of dust" was the lady's Audi.

According to the Associated Press story, "It didn't take police long to piece together that the mechanics had parked it in the wrong garage."

The lady was very happy.

It doesn't make any difference if the story is from 2,000 years ago or now; it doesn't make any difference if we're talking about a lost coin or a lost car; there is always rejoicing when something lost is found. Rejoicing -- that's what Jesus indicates happens in heaven when a sinner repents.

And so it should. Anytime the Savior's forgiveness becomes a reality to a sinful, human heart, is a time of gladness. Anytime a soul is moved from hell to heaven, from damnation to salvation, it is a blessed thing -- a blessed thing made possible by the blood of the Redeemer and by His glorious resurrection.

This is why I encourage you: "Today, make some angels happy; be a sinner who repents."

THE PRAYER: Dear Lord Jesus, for the forgiveness You won for humanity through Your life, suffering, death, and resurrection, I give thanks. Now, I pray the Holy Spirit will let me reflect my gratitude by keeping me from sin, and granting me a repentant heart when I do sin. This I ask in Your Name. Amen.




In Christ I remain His servant and yours,

Today's Bible Readings: 1 Chronicles 4-6 1 Corinthians 7:1-19
To Download Devotion MP3 to your computer, right click here and select "Save Link As" or "Save Target As" or "Download Linked File As"