"Unbelievable!"
---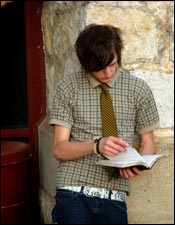 And how from childhood you have been acquainted with the sacred writings, which are able to make you wise for salvation through faith in Christ Jesus. 2 Timothy 3:15
On July 21st, the story, which was carried by the Associated Press, might as well have read, "When pigs fly."

It was simply that unbelievable.

Russian President Dmitry Medvedev announced a pilot program in his country.

Are you ready for this? The president said pre-teen students in 12,000 schools will be given courses in religion or secular ethics. After seeing the catastrophe of the atheistic Soviet Union, the country has learned to appreciate religion and morality.

Students will be given a choice. They can study the official religion of Russia -- the Russian Orthodox faith, or they can take a class on Islam, Buddhism, Judaism, or secular ethics.

I never thought I would live to see the day when the Russians would officially be teaching religion.

Of course, I never thought I would see the day when so many Americans would work equally hard at keeping religion and ethics out of our classrooms.

It's all simply unbelievable. About the only thing that seems trustworthy and consistent is the grace of God, which comes to us through the merit and sacrifice of Jesus.

If a country is walking or running away from Him, the Lord waits with imploring arms, longing for them to return.

If a country is running toward Him, He reaches out to scoop them up so He might hold them close to His heart.

This is why I would invite you to join with me in praying for these two great countries.

THE PRAYER: Dear Lord, it would appear the age of miracles is not yet past. The Holy Spirit still travels the globe and accomplishes His purposes. Today I ask that You will bless Russia's Christian teachers, students, and educational materials. May these people be brought closer to the Savior. I also pray for our country where so many remain dedicated to silencing the Savior's story of salvation. Lord, enable Your Word to be proclaimed so the young may know the wonders of Your grace. In Jesus' Name. Amen.


In Christ I remain His servant and yours,

Today's Bible Readings: Psalms 123-125 2 Thessalonians 3
To Download Devotion MP3 to your computer, right click here and select "Save Link As" or "Save Target As" or "Download Linked File As"