"Long Term Love"
---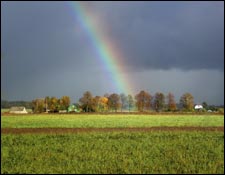 The LORD appeared to us in the past, saying: "I have loved you with an everlasting love; I have drawn you with loving-kindness." Jeremiah 31:3 -
In some places, divorces are far more common than marriages.

With the love of many spouses turning cold, it's little wonder many young people seem to be unimpressed with the idea of getting married.

It's not surprising they prefer to enter into short-term, non-legal relationships. Their reasoning for doing this is simple. They maintain that nothing lasts forever, especially love.

Try telling that to Roland McKitrick of Arlington Heights, Ill. A little over a week ago Roland asked Lorraine Beatty to marry him. Depending on how you look at it, their courtship was incredibly long, or incredibly short.

Let me explain. Roland is 93 years old and Lorraine is 92. They have re-known each other for only three weeks.

Re-known?

That's the only way I can describe it. You see, some 80-plus years ago, Lorraine and Roland were in third grade and they were sweethearts. That was way back in 1921. In 1921 they knew each other and hit it off.

They hit it off so well that for decades Roland carried Lorraine's picture in his wallet -- the picture that had been taken when they were very, very young. As Roland said, "The snapshot stayed in my wallet and her face stayed in my memory."

Apparently so. When family members managed to reunite Roland and Lorraine, they picked up their relationship right where they had left off.

Of course the love story of Roland and Lorraine, as wonderful as it is, can hardly hold a candle to the love of the Lord. As He said in the book of Jeremiah, He has loved us "with an everlasting love."

Get that -- not just a love that lasts eight and a half decades -- His love is everlasting.

It was the Father's faithful love that sent His Son into the world to take our place. It was the Savior's committed love that saw Him sacrificed upon Calvary's cross. It was the Lord's all-powerful love that conquered the grave and now promises a similar victory for all who believe.

So to all those who wonder if human love can last, I would say, "Look at Lorraine and Roland." And if you wonder if God's love is true: stay close to the ever-living Savior.

THE PRAYER: Dear heavenly Father, I thank You for Your love, which continues on faithful and strong. May I show You, and the world, how much that love means. In Jesus' Name. Amen.


In Christ I remain His servant and yours,

Today's Bible Readings: Psalms 120-122 2 Thessalonians 2
To Download Devotion MP3 to your computer, right click here and select "Save Link As" or "Save Target As" or "Download Linked File As"