"Tomorrow's Trouble "
---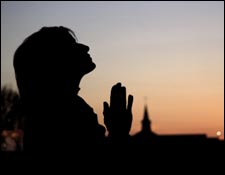 Therefore do not be anxious about tomorrow, for tomorrow will be anxious for itself. Sufficient for the day is its own trouble. Matthew 6:34
Do you remember that Buck Owens-Roy Clark song: "Gloom, despair, and agony on me. Deep, dark depression, excessive misery. If it weren't for bad luck, I'd have no luck at all. Gloom, despair, and agony on me."

According to Dr. Iris Borowsky from the University of Minnesota, those words have found acceptance among a fairly high percentage of young people.

Based on a survey of 20,000 kids, almost 15 percent thought they had a good chance of dying young.

The big problem is this: those dark thoughts are being transformed into a self-fulfilling prophecy. The logic goes this way: these teens think they're not going to live very long. Since they're not going to live long, they've got nothing to lose. Since they've got nothing to lose, they might as well do what they want.

All of this leads to taking chances and doing some risky stuff. How risky? Well, other statistics say that when compared to someone with a brighter outlook, a pessimistic teen has a higher chance of getting AIDS, of attempting suicide, and getting in a fight that will cause a serious injury.

How much higher a chance? Seven times higher. And that's a lot.

So, what do we do about these young folks who are sure every day is filled to overflowing with trouble?

First, we can pray for them. When Jesus talked about being the light of the world, He meant He can bring the brightness of God's grace into hearts, which are darkened by discouragement and depression.

Second, we can watch what we say around these future adults. While we can't sugar coat the dark side of life, we don't have to continuously dwell on sin's repercussions. There is another side to the story: Jesus is good news of great joy. He has changed everything for the better.

Our young people need to hear that from us, and they need to know if we really believe it, and why we believe it.

THE PRAYER: Dear Lord, every day has plenty of evil without us borrowing from tomorrow. May our witness to the young reflect the joy we have in Jesus, who has given His life so we might have an abundant life (see John 10:10). In His Name. Amen.


In Christ I remain His servant and yours,

Today's Bible Readings: 2 Kings 7-9 James 3
To Download Devotion MP3 to your computer, right click here and select "Save Link As" or "Save Target As" or "Download Linked File As"