"A Little Smaller"
---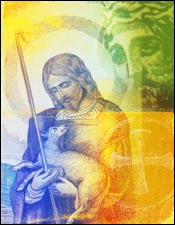 And I, brethren, when I came to you, came not with excellency of speech or of wisdom, declaring unto you the testimony of God. For I determined not to know any thing among you, save Jesus Christ, and Him crucified. 1 Corinthians 2:1-2
As a person who makes his living using words, I appreciate a master of language when I hear one.

Occasionally, however, I've run into someone who stands head and shoulders above the rest of us. I heard of such a man recently when I talked with the owner of a shoe store. He was interviewing a young man and asked the applicant, "Suppose that a lady customer asked you, 'Don't you think one of my feet is bigger than the other?' What would you say?" According to the report, the young man, with minimal hesitation, replied, "I'd say, oh, no ma'am! If anything, one foot is a little smaller than the other."

That salesman could teach Christians a thing or two.

We have a Savior who is kind and gentle toward us. Through His life as well as His Words, He did that which built up those who were lost and lonely, depressed and downtrodden. We should, in thanksgiving for His love, be equally kind and gentle with others. When we have the opportunity, we should make use of supportive language to build each other up. Who knows what battles those around us have encountered? Who can say what types of pain they are enduring?

The words we speak may be the only source of joy and encouragement that they have heard this week. It may not sound like much, but all of us need to hear, "If anything, one foot is smaller than the other."


From a devotion originally written for "By the Way"



THE PRAYER: Dear Lord, it is hard to always be kind and gentle to others. Sometimes I don't deal with others in the way You have commanded. Give me the wisdom to use words that glorify You and build up those around me. In Jesus' Name. Amen.

In Christ I remain His servant and yours,

Today's Bible Readings: Exodus 34-35 Mark 3:20-35
To Download Devotion MP3 to your computer, right click here and select "Save Link As" or "Save Target As" or "Download Linked File As"