"I Believe... In Nothing"
---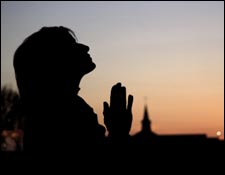 But we preach Christ crucified, a stumbling block to Jews and folly to Gentiles, but to those who are called, both Jews and Greeks, Christ the power of God and the wisdom of God. For the foolishness of God is wiser than men, and the weakness of God is stronger than men. 1 Corinthians 1:23-25
Do you remember the Daily Devotion that talked about how humanists on the East Coast were putting anti-god advertising on buses?*

Now, there is a similar campaign taking place in the West. According to a Denver TV station, Colorado atheists have paid for billboards reading, "Don't believe in God? You're not alone."

Ten billboards will go up in metro Denver. One will be put up in Colorado Springs.

Joel Guttormson, spokesman for Metro State Atheists, said, he imagined the billboards would "likely offend many Christians." Then he added, "...I've read the First Amendment up and down and nowhere does it say that I have to care about your (Christian's) feelings."

I have to admit, when I first heard of these public campaigns of the agnostics who say, "they're not sure there is a god," and the atheists who maintain, "there is no God," I was disturbed.

That feeling is still there, but now it has been joined by a few others.
First, I am thankful. It's much easier to fight against the devil when he, and his spokespeople, go public.
Second, I rejoice that there is still such an obvious need to share the Savior's story of salvation. The Lutheran Hour, our congregations, and each of us must remain dedicated to sharing a changeless Christ with a changing, and unbelieving, world.
Lastly, I am grateful. This holy-day season pastors and parishes will be able to offer up special prayers for these individuals and groups who have never been touched by Bethlehem's manger, or Calvary's cross, or the Savior's empty tomb.



Let us bring these lost souls to the Holy Spirit for special consideration. Let us also ask Him to use us - through word and witness - to share the redemption Christ has won, with unbelievers who are close to us.

THE PRAYER: Dear Lord Jesus, the devil still keeps claiming those for whom You have died and risen. Use The Lutheran Hour, my congregation, and me to touch these people with the joy that comes to all who acknowledge You as Savior and Lord. In Your Name I ask it. Amen.


*Read that devotion here.


In Christ I remain His servant and yours,

Today's Bible Readings: Ezekiel 24-26 1 Peter 2
To Download Devotion MP3 to your computer, right click here and select "Save Link As" or "Save Target As" or "Download Linked File As"