"Remembering Those"
---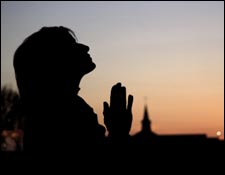 Remember those who are in prison, as though in prison with them, and those who are mistreated, since you also are in the body. Hebrews 13:3
This Thanksgiving, I am going to hear my son preach. Or maybe we will be at our home congregation in St. Louis.

Whichever place Pam and I go, we're pretty sure there won't be anybody outside the door trying to kill us. We're pretty certain a group of fanatics is not going to try and burn those churches down.

Now, if you think that is a pretty strange way to begin a devotion, think again.

Increasingly, more of our brothers and sisters in Christ regularly face that prospect.

The most recent surge of anti-Christian violence comes out of India. Now, I know when people think of the Hindu faith, they usually conjure up visions of long-bearded, gentle maharishis telling us all "to love one another."

If that's what you're thinking, you should be aware that there are places in that country where the Savior's people are almost seeing a "religious cleansing" by extremists. And, if you're thinking that is an exaggeration, you should be aware that the violence which began in August has cost the lives of 38 people, made 30,000 homeless, and destroyed dozens of churches.

"A religious cleansing." That's what a letter, addressed to the President and signed by 24 Catholic, Orthodox, and Protestant leaders, called what is happening in the subcontinent.

It's a "religious cleansing" in which Christian villagers are told they must convert to Hinduism.

This Thanksgiving, I shall be praising the Triune God that I have experienced no such hatred and violence in my life. And, as the writer of Hebrews suggests, I shall also remember those who are in prison and who are being mistreated; I shall remember them as if I were one of them.

May God grant them grace to withstand the day of persecution, and may we keep them always before the Lord in our prayers.

THE PRAYER: Dear Lord Jesus, You gave Your life for our salvation. What is there in that gracious act of love that causes such hatred in the hearts of men? Be with those in the family of faith who are on the frontlines of persecution. Help them withstand the onslaught of the old evil foe. In Your Name, I pray it. Amen.

In Christ I remain His servant and yours,

Today's Bible Readings: Ezekiel 8-10 1 Timothy 5
To Download Devotion MP3 to your computer, right click here and select "Save Link As" or "Save Target As" or "Download Linked File As"