"God's The Bad Guy... Again"
---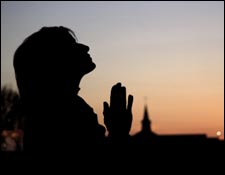 I have learned in whatever situation I am to be content. Philippians 4:11b
The Time Magazine article was entitled: "Maybe We Should Blame God for the Subprime Mess."

Great, I thought to myself: God is blamed for earthquakes, fires, tornadoes, hurricanes, plague, pestilence, and lightning strikes. Now He's getting singled out for economic downturns.

It just didn't seem fair.

And it isn't. According to the article, some prosperity preachers have been telling their people that God "will make a way for poor people to enjoy the better things in life." Those preachers ended up feeding their people to bad brokers and overwhelming mortgages.

Pentecostalism authority at the University of Rochester in New York, Anthea Butler says she has heard preachers tell their church members "even if you have a poor credit rating, God can still bless you -- if you put some faith out there (that is, make a big donation to the church), you'll get that house or that car or that apartment."

Looking back on the last six years of Lutheran Hour sermons, I don't think I've ever said that.

I know I haven't said that, because God never said that.

Now, it's true, some of God's people had a great many physical blessings showered down upon them. Abraham did pretty good, but Moses spent the last third of his life in the wilderness. Joseph became a wielder of power and authority, but I've never heard that any of the disciples lived the lifestyle of the rich and famous.

That's what St. Paul was trying to tell the Philippian church, and us, when he wrote the words that serve as the text for our Daily Devotion. But Paul didn't stop with that sentence. Listen as he continues: "I know how to be brought low, and I know how to abound. In any and every circumstance, I have learned the secret of facing plenty and hunger, abundance and need. I can do all things through Him who strengthens me" (Philippians 4:12-13).

Jesus came to save us and to help us. The Redeemer, before He ascended, promised to be with us always. Believing that, we can, like Paul, declare that we have learned the secret. "I can do all things through Him who strengthens me."

And for that gift, Christians should not blame the Lord. We should give Him credit.

THE PRAYER: Dear heavenly Father, to know that I am not alone and not at the mercy of events which go on around me is cause for gladness. May I be thankful that the Savior who has redeemed me, also stays with me and enables me to face plenty or hunger, abundance or need. In His Name. I give thanks. Amen.

In Christ I remain His servant and yours,

Today's Bible Readings: Nahum 1-3 Acts 23:1-15
To Download Devotion MP3 to your computer, right click here and select "Save Link As" or "Save Target As" or "Download Linked File As"