"Escape Or Die"
---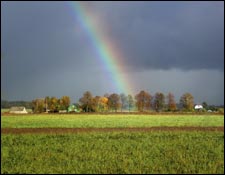 And as they brought them out, one said, "Escape for your life. Do not look back or stop anywhere in the valley. Escape to the hills, lest you be swept away." Genesis 19:17
This devotion is being written from my hotel room in Amarillo, Texas. Hurricane Ike is the reason I am not on a flight home right now.

According to my next-door neighbor, there is a large tree down in my back yard. Hurricane Ike gets the blame for that, too.

Of course, the loss of a tree is nothing compared to the damage experienced by many.

Amazingly, the number of folks who have died from this monster storm is minimal.

Maybe that's because hundreds of thousands of people paid attention to the warnings that were given. In case you didn't hear, to those places the hurricane was to hit, the National Hurricane Center warned, "All neighborhoods and possibly entire coastal communities will be inundated during the period of peak storm tide . . . . Persons not heeding evacuation orders in single family one- or two-story homes will face certain death."

When I heard that warning, I was reminded of what the angels said to Lot before the destruction of Sodom and Gomorrah: "Escape . . . do not look back . . . escape lest you be swept away."

Lot obeyed God's instructions and survived. His wife looked back and died. It was very simple.
If you are reading this devotion, you have probably heard God's salvation warning: "Whoever believes and is baptized will be saved, but whoever does not believe will be condemned" (Mark 16:16).

You know you have been saved completely and totally by Holy Spirit-given faith in Jesus as your liberator.

As one of Jesus' saved people, you are grateful because your gracious God has moved you from the danger zone of sin, Satan, and death, to the forgiveness and salvation that comes only through Jesus' life, suffering, death, and resurrection.

You are saved, but others are not. This is why, today, I would encourage you to pray for one person, one individual who is special to you-somebody who has decided to ignore the warnings of Scripture and remain steadfast in his or her unbelief.

Pray that their hearts may be softened, and they will flee from their present position of certain death to the safety assured by the Savior's sacrifice.

THE PRAYER: Dear Lord Jesus, for sending Your Holy Spirit to call me to faith, I will be eternally grateful. Now I specifically bring to Your attention, (NAME) ________, my (RELATIONSHIP) ________. Let him/her be touched by the wonder and joy of what You have done. In Your Name. Amen.

In Christ I remain His servant and yours,

Today's Bible Readings: Isaiah 30-31 Romans 2
To Download Devotion MP3 to your computer, right click here and select "Save Link As" or "Save Target As" or "Download Linked File As"