"Giving The Devil"
---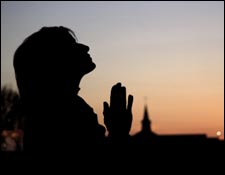 Finally, be strong in the Lord and in the strength of His might. Put on the whole armor of God, that you may be able to stand against the schemes of the devil. Ephesians 6:10-11
Standing against Satan's schemes.

I like the sound of that. Unfortunately, we don't always do that.

I remember hearing of a middle-aged couple who were involved in a Bible study group that encouraged folks to share events from their lives.

The wife got up and said, "I'm sorry to say we're living in a wicked land where sin is all around us. I have to admit that I've had a terrible fight with the old devil all week long." By this, she meant she had been fighting temptation.

Unfortunately, that's not what her husband thought she meant. As soon as his wife finished talking about fighting with the devil, he quickly added, "Don't you folks think it's all my fault. She's got her faults, too."

When I first heard that story, I thought it was funny.

Then, I realized there are times when I give people "the devil." Maybe I'm too curt, or grouchy, or inattentive, or impatient. The list could go on. No matter how short or long it is, there are times I don't properly reflect the love of the Savior.

How sad it is that we, who have received so much from the Prince of Peace, often give the devil to others.

Which is why, each day, we need to repent and be forgiven. We need to believe that the Savior who conquered sin, devil and death has the power to transform us as well.

We need to stand against Satan's schemes and live our lives so that when our friends look at us, they see the Lord and not the devil.


From a devotion originally written for "By the Way"



THE PRAYER: Dear Lord, please forgive me for "giving the devil" to others. It is only by Your strength that I can change, so that when others look at my life, they see You and not the old evil foe. In Your Name I pray it. Amen.

In Christ I remain His servant and yours,

Today's Bible Readings: Isaiah 7-8 Acts 20:17-38
To Download Devotion MP3 to your computer, right click here and select "Save Link As" or "Save Target As" or "Download Linked File As"