"There Is Much Good To Do"
---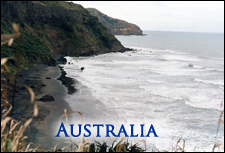 For it is by grace you have been saved . . . . For we are God's workmanship, created in Christ Jesus to do good works . . . . Ephesians 2:8a, 10a
Dear Brothers and Sisters in Christ:

The salvation story of Jesus Christ reaches around the world. So that the readers of our Daily Devotion may see the power of the Savior on a global scale, we have asked the volunteers of our International Ministry Centers to write our Friday devotions. We pray that the Spirit may touch your day through their words.

In Christ, I remain, His servant and yours,
Kenneth R. Klaus
Speaker of The Lutheran Hour



Travis was raised in a Christian family with strong Christian influences. He was taught the foundations of the faith and what it means to live every day in the joy of his Baptism. Thanks to his family, his grounding in the Word of God was strong.

But school, the teenage years, and the pressing decisions that come with growing older all have a way of testing the durability of one's faith. Issues that are small and in themselves inconsequential take on an added dimension when they crowd in upon our efforts to seek the Lord through prayer and Scripture reading. Fortunately, Travis remained convinced that God would neither fail nor forsake him, recalling Deuteronomy 31:6, which says, "Be strong and courageous. Do not be afraid or terrified because of them, for the Lord your God goes with you; He will never leave you nor forsake you."

We are saved by grace through faith in Jesus, whose dying and rising forgives our sins and reconciles us to God. As Christians, we have been created by Christ Jesus Himself to do good works. God has a plan for us to influence and impact the world so His glory is displayed to all generations. This gets us fired up to do something good. Are you similarly empowered? There is much to do - - for those we love and for those we don't even know.

How has the Lord shown the world the workmanship He's produced in your life?

THE PRAYER: Dear heavenly Father, shape us to Your will and fashion us by Your Word. Make us useful wherever You lead us and whenever You need us. Remind us of Jesus' example of obedience and sacrifice. In Jesus' Name, Amen.

Biography of Author:
Travis Doecke lives in Australia. He is devoted to honoring God through faithful service and obedience to his Savior and committed to sharing the Gospel of Jesus Christ with others.






To learn more about our International Ministries, click here or visit www.lhmint.org.


Today's Bible Readings: 2 Chronicles 23 Joel 2-3 2 Corinthians 10
To Download Devotion MP3 to your computer, right click here and select "Save Link As" or "Save Target As" or "Download Linked File As"