"Dark Clouds"
---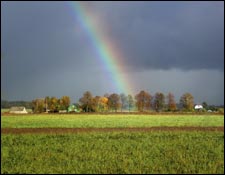 And we know that for those who love God all things work together for good, for those who are called according to His purpose. Romans 8:28
The Holy Spirit inspired Paul to write those words many centuries ago. I know those words are true. I believe in them. There are times, however, when it's difficult for me to say, "Amen!" to them. For example, it's been hard for me to believe there's a lot of good that will come out of high gas prices.

Thankfully, there are people who see things more clearly than me. There are folks who have managed to see good in gas that sells for more than $4 a gallon.

If you're skeptical, I can understand. Still, according to an article in Foreign Policy, there are at least five advantages to high pump prices.

1. High gas prices are forcing people to use mass transit.
2. High gas prices are getting people into shape as they walk or ride their bikes. One Washington University scholar has said that for every dollar gas goes up, obesity levels will eventually go down, down by 16 percent.
3. According to the U.S. Department of Transportation, high gas prices translate into fewer people driving. Those who keep driving will drive slower. That means fewer accidents.
4. High gas prices force people to make fewer and shorter trips.
5. High gas prices will inspire an increase interest in alternative energy.

Now I don't blame you if you don't immediately see the silver lining in this dark cloud or, for that matter, any dark cloud that might be hovering over you.

Even so, I would encourage you to take the Lord at His Word. We may not always be able to see God's goodness; we may not be able to anticipate how His grace is going to show itself, but as His children, we can be sure it is there.

It is always there.

We can be sure because of Jesus Christ. Our heavenly Father, in the person of His Son, made a very great investment in our future. So we might know He loves us, wishes to bless us and save us, Jesus entered this world. So we might be taken through all our pains, Jesus carried our sins and drank deeply from a cup of horrendous suffering.

How can we be sure of God's good intentions? Look to Christ's cross and His empty tomb. There you will see how much He cares. Then, confident of His caring, we can believe and join with Paul in saying, "for those who love God all things work together for good, for those who are called according to His purpose."

THE PRAYER: Dear Lord Jesus, for Your sacrifice that changes my world, I offer my thanks and ask that I may look past the problems of this world and see the love of Your empty tomb. In Your Name. Amen.

In Christ I remain His servant and yours,

Today's Bible Readings: Psalms 127-129 Acts 18
To Download Devotion MP3 to your computer, right click here and select "Save Link As" or "Save Target As" or "Download Linked File As"