"What's For Dinner?"
---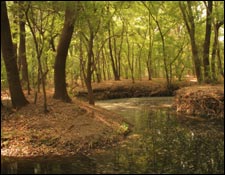 Jesus said, ". . .do not be anxious about your life, what you will eat or what you will drink . . ." Matthew 6: 25a
Cookbooks.

Cookbooks were the subject of conversation as I rode the shuttle to pick up a car rental at the Denver airport. Traveling to Holyoke for a fantastic centennial weekend with the Pastor and people of Zion Lutheran, I struck up a conversation with a lady who traveled the country selling - - of all things - - cookbooks.

When I asked her how business was, she said, "Fantastic." Then I asked her, "Why?" She said, "People can't afford to eat out all the time anymore, so they're eating at home." My last question was this: "And what's your hottest selling cookbook?" To that she smiled and said, "Any cookbook which helps people stretch their food dollar is selling like hotcakes."

That's probably good news for congregations like Zion who celebrated their anniversary by publishing a cookbook with time-tested recipes supplied by their members.

According to an article carried last week by MSNBC, food prices have risen more than 5 percent since last year. People aren't just worried about how they're going to fuel their cars; they're concerned about how they will fuel themselves and their families.

That's why the article gave 35 different ways on how to trim your food expenses. They included things like planning ahead, eating before you shop, buying generic, using coupons, cooking in batches, canning, and going without meat for a few days. (I can hear the men who are reading this devotion say, "No way!")

All in all, it was a good article, and one of which Jesus would probably approve. While the Lord instructed His people not to be "anxious" about what they were going to eat or drink, He never told them not to use common sense about matters earthly.

The reality is this. Even as people have often had to adapt during difficult times in the past, our generation may find itself having to do some changing in the future. While that kind of change won't kill us, it might make us a bit uncomfortable.

This is why, no matter what tomorrow holds - - no matter where prices might go, we need to remember the living Lord Jesus is with us. He who sacrificed Himself so all who believe on Him as Savior would have eternal life, is not just concerned about matters spiritual or things eternal.

He who has promised never to leave us nor forsake us, He who has encouraged us to cast our cares upon Him, is there to help, to listen, to encourage and to get us through - - even when the price of eggs goes up 30 percent in one year.

THE PRAYER: Dear heavenly Father, You have given me no crystal ball to see the future. On the other hand, You have given me a Savior who has promised to help me through whatever path my future might take. May I always be grateful for my risen Redeemer. In His Name. Amen.

In Christ I remain His servant and yours,

Today's Bible Readings: 2 Kings 4-6 James 2
To Download Devotion MP3 to your computer, right click here and select "Save Link As" or "Save Target As" or "Download Linked File As"