"Submitting"
---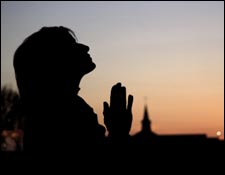 Giving thanks always and for everything to God the Father in the name of our Lord Jesus Christ, submitting to one another out of reverence for Christ. Ephesians 5: 20-21
NOTE: For citizens of other countries who read the Daily Devotions, please feel free to substitute your fireworks holiday for the U.S. Fourth of July celebration written about here.

When I was a boy in Chicago, some of the neighbors used to set off fireworks in the empty lot behind our home.

Now the empty lot is gone and so are the block-party fireworks. I miss them.

From what MSNBC said last week, there are many places in the U.S. that didn't have fireworks this Fourth of July.

There are two main reasons for the change: First, there was a giant explosion at some fireworks factories in China. It appears, along with a shortage of oil, there is also a global shortfall of fireworks. A shortage meant many places couldn't afford, or get the rockets red glare and the bombs bursting in air.

The second reason some communities were fireworks free is because it was too dangerous to have them. Dry conditions in California, Texas, Oregon, Idaho, and North Carolina forced many communities to ban everything from sparklers to more elaborate pyrotechnics.

Governor Schwarzenegger summed it up: "Don't buy the fireworks; don't go out and play with fireworks, because it's just too dry and too dangerous to do those things." It was a reasonable request.

Homes and property are more important than bangs and booms. Even so, I'm going to miss those window-rattling explosions. You probably will, too.

In spite of our personal preferences, we Christians know we have a duty - - a duty to submit to each other out of reverence for the Savior. That is the way we live as family members; it is the way we act as citizens in our communities and countries.

In doing so, we are only reflecting in a very small way the way the Savior lived. As God's Son, He could have demanded respect, authority, worship. Instead, Jesus humbled Himself and became obedient - - obedient in His life, His suffering, and death. Because He submitted to His Father's plan of salvation, we who believe are washed of our sins and promised life eternal.

As Paul indicated in our Daily Devotion text, God's gracious gifts are something we can always give thanks for - - even when there aren't fireworks on the Fourth of July.

THE PRAYER: Dear heavenly Father, bless our lands, be with our leaders. Let us celebrate our freedom from earthly tyranny and spiritual dictatorship. Help us remember both are gifts from You. In Jesus' Name. Amen.

In Christ I remain His servant and yours,

Today's Bible Readings: 2Kings 1-3 James 1
To Download Devotion MP3 to your computer, right click here and select "Save Link As" or "Save Target As" or "Download Linked File As"