"Ashes to Ashes"
---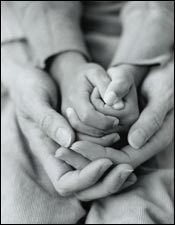 ...sometimes a person who has toiled with wisdom and knowledge and skill must leave everything to be enjoyed by someone who did not toil for it. Eccl 2:21b
Fredric J. Baur of Cincinnati changed my life. He probably changed yours, too.
Amazingly, I didn't know Fredric J. Baur of Cincinnati had changed my life until I read of his death at the age of 89.

That's because of the way Fredric J. Baur was buried. In life, Mr. Baur had been an organic chemist and food storage technician who specialized in research and development for Procter & Gamble. In practical terms, Mr. Baur was the fellow who invented the packaging for Pringle's potato chips.

It was something Mr. Baur was proud of. He was so proud that when he died he requested part of his cremains be placed into one of the potato chip containers.

It was a request his family honored.

As the writer of Ecclesiastes said, Mr. Baur had toiled with wisdom and knowledge and skill. When he died everything was left for others... he couldn't' take anything with him. And, when all was said and done, he is being remembered as the fellow who invented and was buried in a potato chip container.

When I die, I would hope that I will be remembered for... something else.

Maybe a good sermon... or a wise thought... or some silliness with the family. Maybe a soul which was touched... or a friend who was comforted... or a child whose wound was made better with a kiss.

Most of all I think I would like to be remembered as being the father, husband, friend who knew he was a forgiven sinner.

That last line, more than any other, is that which will provide comfort and hope for those who are left behind when I die. The confidence that their dearly departed (and I say that hopefully) had been redeemed by the Savior and cleansed by His blood is what will offer them confidence of an unending reunion in heaven.

Now it is quite possible that Mr. Baur's family remembers him for all those things, too. I don't know. I pray so.

Just as I pray, when you are done and when your toiling is over, you will be remembered as a person who was loved by the Savior and who loved Him in return.

THE PRAYER: Dear Lord Jesus, You came to give Your life for mine. Because You have successfully completed the Father's plan of salvation, I am at forgiven. May I, in the days which are before me, reflect that salvation to all those around me. When my ending comes may I be remembered as one of Your redeemed. In Your Name. Amen.

In Christ I remain His servant and yours,

Today's Bible Readings: 1 Kings 1-2 John 18:19-40
To Download Devotion MP3 to your computer, right click here and select "Save Link As" or "Save Target As" or "Download Linked File As"