"Last Words"
---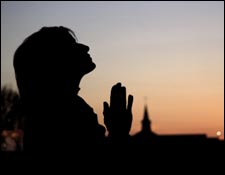 . . .the other rebuked him, saying, "Do you not fear God, since you are under the same sentence of condemnation? And we indeed justly, for we are receiving the due reward of our deeds; but this man has done nothing wrong." And he said, "Jesus, remember me when you come into your kingdom." Luke 23:40-42
"What do you want on your tombstone?"

That was the question pitched by a frozen-pizza company in its ad campaign a few years ago.

Paraphrasing them, I ask you, "What would you like your last words to be?"

Scott Vollum, author of Last Words and the Death Penalty, researched the final words of 292 executions carried out in Texas from 1982 to 2002.

And what were their last words? Michael Richards said, "Let's ride"; Granville Riddle, who killed an Amarillo man with a tire tool said, "I have never been mean-hearted or cruel." Some, like David Herman, left this world speaking to the family of the girl he had murdered. He told them "If my death gives you peace and closure, then this is all worthwhile."

According to Vollum, ". . .it's an odd thing to see a lot of them (those being executed) trying to redeem themselves."

So, the question is asked: "What will your last words be?" Not many of us will put as many items into our final sentences as did the thief on the cross. His statement, the text for our devotion, manages to confess wrongdoing, proclaims the innocence of the Savior, and displays a total reliance upon Jesus who is the only One who could help him.

So what will your last words be?

Of course, most of us won't have the luxury, if it can be called that, to know when our last moment is going to come. We probably won't be given days, weeks, months, or years to prepare a verbal legacy for those around us.

For that reason, it is right for each of us to be prepared for that unknown hour when death will come. Our lives ought to express and our words need to indicate to all around us that Jesus is our Redeemer. For their sakes, as well as ours.

And, if God does give us a chance to leave an oral last will and testament, may we echo the faith of Paul who wrote, ". . .the time for my departure has come. I have fought the good fight, I have finished the race, I have kept the faith. Henceforth there is laid up for me the crown of righteousness, which the Lord, the righteous judge, will award to me on that Day, and not only to me but also to all who have loved his appearing" (2 Timothy 4:6ff).

THE PRAYER: Dear Savior, You came to seek and save sinners. I rejoice that You will someday bring me into Your Kingdom. Until that day comes, may my words and actions point to You who alone can save. In Your Name. Amen.


P.S. A few weeks ago, one of our Daily Devotions spoke of global food riots. Dennis Pieper, a Special Ed teacher from Park Forest, IL directed me to a Web site that can help. The site is: www.freerice.com. If you go there (it doesn't ask for your name, e-mail, or any other personal information), you get to play a vocabulary quiz. (No grades are given, and you can stop when you want.) For every correct answer, the sponsors of the page give 20 grains of rice to the United Nations' World Food Program. Twenty grains may not be much but multiply that by tens of thousands of readers, and it adds up. To date, more than 32 billion grains of rice have been donated. Thanks, Dennis.

In Christ I remain His servant and yours,

Today's Bible Readings: Psalms 4-6 John 7:1-27
To Download Devotion MP3 to your computer, right click here and select "Save Link As" or "Save Target As" or "Download Linked File As"