"Teach Your Children"
---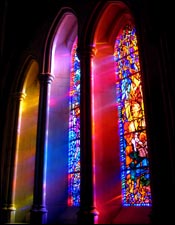 And these words that I command you today shall be on your heart. You shall teach them diligently to your children, and shall talk of them when you sit in your house, and when you walk by the way, and when you lie down, and when you rise. Deuteronomy 6:6-7
California's Governor, Arnold Schwarzenegger is very upset.

While, the good Governor isn't as intimidating as he was back in the days he played the role of Conan the Barbarian, I still wouldn't want to mess with him. What has the Governor so perturbed?

Simple, on February 28th, Judge H. Walter Croskey ruled on a case of child abuse which is alleged to have taken place in a home-school situation. Appealing to a 1953 law, the Los Angeles Department of Children and Family Services had asked this family's children be enrolled in public schools so teachers can spot any abuse of the little ones.

Judge Croskey took the request one step further when he declared all of California's children, ages 6 to 18 can only be taught by credentialed teachers in public or private schools — or at home if a parent has a teaching degree. That's bad news for many of the state's 200,000 home-schooling parents.

It's also what caused Governor Schwarzenegger to say, "Parents should not be penalized for acting in the best interests of their children's education. This outrageous ruling must be overturned by the courts and if the courts don't protect parents' rights then, as elected officials, we will."

I think the Lord would agree with the Governor, at least in the first part of what he said. In the book of Deuteronomy God instructed parents to continuously teach His will and Word to the children He had entrusted to them. Truly, as Christian parents God has given us a wonderful and blessed opportunity to tell our little boys and girls of their Savior and just how much He loves them.

By law, telling little children of what Jesus has done for them is something no state school can do. It is our job, our joy, our God-given trust. As the Lord said to Moses, teaching the children is a job parents should diligently do when they sit in their houses, when they walk along the way, when they get up, and when they lie down.
To tell the children of what Jesus has done, and to tell them 24/7. That's not a job, it should be a blessed and treasured opportunity.

THE PRAYER: Dear Lord Jesus, You have freed us from the curse of the law and granted us the freedom to worship You in spirit and in truth. In gladness may every day be a day of celebration for what You have done to win our salvation. In Your Name. Amen.


In Christ I remain His servant and yours,

Today's Bible Readings: Numbers 26-27 Luke 1:1-20
To Download Devotion MP3 to your computer, right click here and select "Save Link As" or "Save Target As" or "Download Linked File As"