"The Light"
---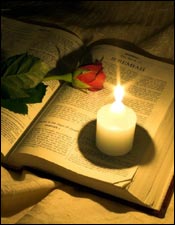 Jesus spoke to them, saying, "I am the light of the world. Whoever follows me will not walk in darkness, but will have the light of life." John 8:12
It was during the 1800s, in Birmingham, England, a poor, little boy went to one of the newly formed Sunday schools. There he heard his teacher say Jesus was the "Light of the world". The lad, being unfamiliar with adults and the symbolic language we sometimes use, took the teacher's remark quite literally.

After class, the boy came up to his teacher and reflectively said, "If Jesus really is the light of the world, I wish He'd come and visit the street outside my home. It's awful dark where I live."

As we start this new year, it occurs to me that the entire world is, like that little boy, longing that the light would come to them. Throughout recorded history, unaided and unsaved humankind has been living in the dark. The events of this past year, in every corner of the globe, tell us that it's pretty dark where almost everybody is living.

Indeed, it's quite possible there are dark homes on your street or in your neighborhood.

If that is the case, it is my prayer that this new year may be filled with the light, which comes from our crucified and ever-living Lord Jesus. And, if your home already is filled with Jesus, the Light of life, won't you shine some of it to those around you.

As the song says, "this little Gospel light of mine, I'm going to let it shine". It may be a children's song, but it is an opportunity for every man, woman, and child who live in the Light of the Lord to shine.

THE PRAYER: Dear Lord, You are the Light that makes the darkness scatter. Illumine every corner of our lives where sins are hidden and intentions are impure. Cleanse us, Lord, and let us live in the Light. Amen.

In Christ I remain His servant and yours,

Today's Bible Readings: Job 8-10 Matthew 9:1-17
To Download Devotion MP3 to your computer, right click here and select "Save Link As" or "Save Target As" or "Download Linked File As"