"They Don't Get It"
---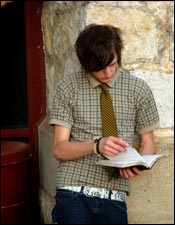 If we say we have fellowship with him while we walk in darkness, we lie and do not practice the truth. But if we walk in the light, as he is in the light, we have fellowship with one another, and the blood of Jesus his Son cleanses us from all sin. 1 John 1:6-7
Last week, according to a story carried by MSNBC, a priest in New Franken, Wisconsin removed his church organist and choir director from her duties. It was the priest's decision that the 50-year-old lady was involved in an occupation inconsistent with the teachings of the church.

Now, this devotion is not going to go into detail about what this woman was doing or the priest who tried to get her to stop doing it. Let us sum things up by saying this is a priest who thinks the Holy Spirit was serious when He inspired John to write, "if we say we have fellowship with Him while we walk in darkness, we lie and do not practice the truth."

What is amazing about this story is how some public personalities have reacted to what happened in the Wisconsin parish. For example, the hosts on a nationally syndicated women's television show seemed to take considerable issue with the priest's decision. One thought it wrong for the church to probe "into your life in terms of how well you can do your job." Another took the criticism to another next level and asked, "Why can't someone who is a hooker at night ... on Sunday go to whatever church or temple and try to get spiritual?"

If I understand this correctly, the priest is not allowed to correct or even be concerned about one of the members of his parish, but media personalities are given free license to condemn the priest for his caring. What a world we live in when those who have been called to take care of the Savior's flock are criticized for doing so. What a sad commentary it is when people are told they can live one life during the week, and then pick up another as they go to church on Sunday and "try to get spiritual." Brothers and sisters, these things ought not be so.

It is far better, as John says, to walk consistently in the Light of our Savior. We, who have been cleansed of our sins by the blood of Jesus, know that His grace is not a gift that is confined to Sunday mornings when we go to church. God's forgiveness that is so dear to us dare not be something that is thrown off on Mondays, so we can pick up our real lives. Indeed, joy in the Lord's love is something that permeates every moment of every day the Lord gives to us.

No matter what some TV personalities might say.

THE PRAYER: Dear Lord Jesus, may I always be appreciative of Your cleansing blood. Keep me from hypocrisy and an on again, off again kind of faith. In Your Name, Amen.

Today's Bible Readings: Proverbs 5-7 John 20
To Download Devotion MP3 to your computer, right click here and select "Save Link As" or "Save Target As" or "Download Linked File As"