"Scramblin' for Success"
---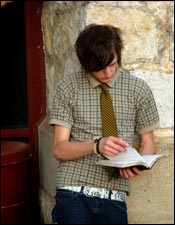 He (Jesus) noticed how the guests picked the places of honor. Luke 14:7
Everybody likes to be famous. Everyone wants to be number one. The English paper, The Daily Mirror, wanting to see just how far people would go in their search for fame, ran an ad for an imaginary TV program called, "Quarantine." The ad said, in part: "Not worried about looking and feeling your worst on live TV? We're looking for charismatic, extroverted, and healthy men and women for a new reality show. Contestants will spend a week in our lab exposed to infectious diseases. Ready to face the pain to find the fame? Don't mind the nation seeing you at your lowest ebb? If you want to become a star in a week, and rich too, then we want to hear from you." Within a few days, more than 200 applications arrived. If the show had aired, I imagine it would have been a hit. People like to be first.

Jesus said it doesn't work that way in the kingdom of God. In God's kingdom, the humble are lifted up and those that consider themselves to be a cut above everyone else are brought down. That was certainly the way it was when the Christ was born; God picked a humble maid from Nazareth to be the mother of our Savior. When God wanted to tell the world the Messiah had come, He shared the Good News of great joy with some humble shepherds. When Jesus called disciples to follow Him, He selected humble fishermen, a despised tax collector, and a political activist. When He was dying, He told a penitent criminal that he would, before the end of the day, be in heaven. When Jesus rose from the dead, some sad and sorrowful ladies were the first to see Him alive.

Jesus' resurrection from the dead is the culmination of God's plan to lift up the entire lost and sinful world—including each of us. Because of Jesus' substitution for us, all who humbly acknowledge Him as being their Savior, and first in their lives, find that they, too, are lifted up. No longer do they have to do anything and everything to prove they are worth something. Jesus has already shown they are valuable: They are worth the cost of His own life. To forgive us, to save us, to give our lives true value is why the Christ came. So Jesus might lift our souls from hell and lead us into heaven was the reason that Jesus suffered, died, and rose. Now, by the Holy Spirit's intervention, the Lord offers salvation to all who confess they have sinned and Jesus is their substitute. Those are lifted up who say that Jesus is number one in their lives.


Excerpt from The Lutheran Hour sermon preached on September 12, 2004.

THE PRAYER: Gracious Savior, thank you for substituting Your own life for mine. Please guide me with Your Holy Spirit as I seek to make You number one in my life. Amen.

Today's Bible Readings: Psalms 27-29 John 11:1-29
To Download Devotion MP3 to your computer, right click here and select "Save Link As" or "Save Target As" or "Download Linked File As"