"The Return"
---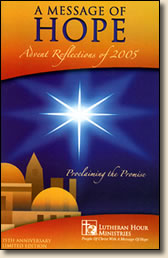 But the fruit of the Spirit is love, joy, peace, patience, kindness, goodness, faithfulness, gentleness and self-control. Against such things there is no law. Galatians 5:22-23
As presented on *The Lutheran Hour® by Dr. Dale A. Meyer, 1993

In the next days, many people are going to return Christmas presents. Are you going to return the gifts that God has given to you?

Oh, God has given you gifts far greater than any presents you received yesterday. Saint Paul lists some of God's gifts in Galatians 5:22-23: "The fruit of the Spirit is love, joy, peace, patience, kindness, goodness, faithfulness, gentleness, and self-control." Think about these gifts. Why would you want to return them?

These are gifts for your heart and life. These are gifts that won't wear out with use, but instead will grow stronger with time. God's gifts will not depreciate in the eyes of others but will appreciate as your friends and family see your good works and glorify your Father in heaven. These are needed and welcome gifts. Maybe today or tomorrow you're going to return that ugly shirt or the coffee maker you don't need. But these gifts of God are needed in your daily life and so they should be kept and used.

When the holidays are over and you return to your normal routine of life, the world will not have changed. The problems are still out there. You may be unappreciated or even despised. No, in this new week and New Year, the world will be the same old troublesome place, but you will have been changed. The Word of the Savior, the word of forgiveness, the word of life, has penetrated your heart and enables you to glorify and praise God.

Direct us, O Lord. As the holidays pass and we return to our normal routines, help us so that all we do may give glory and praise to You. Amen.

Taken from A Message of Hope: Proclaiming the Promise (selections from messages broadcast on *The Lutheran Hour, celebrating 75 years of proclaiming the promise).

Copyright © 2005 by Lutheran Hour Ministries

*The Lutheran Hour is the longest-running Christian radio broadcast in the world. It is a production of Lutheran Hour Ministries. For more information, visit www.lutheranhour.org.

Today's Bible Readings: Nehemiah 4-6 Revelation 17
To Download Devotion MP3 to your computer, right click here and select "Save Link As" or "Save Target As" or "Download Linked File As"