"A Fairy Tale Christmas"
---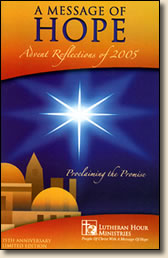 Luke 2:1-20
As presented on *The Lutheran Hour® by Dr. Dale A. Meyer, 1998

Is your heart empty this Christmas? When you were young, fairy tales seemed very real. To you there really was a Cinderella and she had a real castle—and you thought of yourself as a prince or a princess. Maybe you received the Christmas story as a real story, too. In your childhood there really was a Mary and Joseph. There really were shepherds and wise men. And there really was a baby Jesus.

But as you grew older, Jesus may have gone the way of Cinderella in your life. His birth became a fairy tale, and new realities captured your attention and occupied your energies. You have pursued your career, family, love, personal fulfillment, happiness, and perhaps you have achieved your goals. Perhaps you now have earthly glory, or at least some of the things you once coveted. But have you paid a price? Surrounded by the splendors, is your heart empty?

Don't let the coming of Christ be a fairy tale this Christmas. Even if you have disregarded it in the past, even if Christmas has been only an opportunity for quality family time, let Christmas now impact your daily life as it never has before. Come to Bethlehem and see real life, no fairy tale. Come with me now, not as a tourist but as a suppliant along with the shepherds. Come with your heart that has so often been broken, that is so often empty, a heart that is learning that the world's glories are vanity. "Come to Bethlehem and see Him whose birth the angels sing."

Lord Jesus, fill my heart with Your love this today and let it overflow into the hearts of others. Amen.

Taken from A Message of Hope: Proclaiming the Promise (selections from messages broadcast on *The Lutheran Hour, celebrating 75 years of proclaiming the promise).

Copyright © 2005 by Lutheran Hour Ministries

*The Lutheran Hour is the longest-running Christian radio broadcast in the world. It is a production of Lutheran Hour Ministries. For more information, visit www.lutheranhour.org.

Today's Bible Readings: Nehemiah 1-3 Revelation 16
To Download Devotion MP3 to your computer, right click here and select "Save Link As" or "Save Target As" or "Download Linked File As"