"Rejoice This Christmas"
---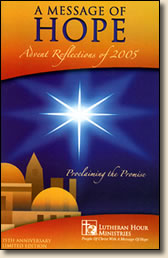 Why spend money on what is not bread, and your labor on what does not satisfy? Listen, listen to me, and eat what is good, and your soul will delight in the richest of fare. Give ear and come to me; hear me, that your soul may live. I will make an everlasting covenant with you, my faithful love promised to David. Isaiah 55:2-3
As presented on *The Lutheran Hour® by the Rev. Wallace Schulz, 1995

Two years ago the National Retailer's Federation conducted a national survey to determine the amount of money the average family spends for Christmas gifts. At that time, the average spent was nearly $1,000 for every household. The amount spent this year has probably topped or even surpassed the $1,000 per family amount! This same Retailer's Federation said that much of the spending will be "reasonable" and "rational." But they added that for a growing number of families "the holidays will be a treacherous time, a time to get deeper and deeper into debt."

What an irony! Historically, Christmas has been a time for Christians to celebrate! They rejoice that God in His grace has given unto all people of every nation: salvation in Christ as a free gift. But now this season of the free gift has been turned into a time for financial bondage.

Now, there is certainly nothing wrong with exchanging gifts at Christmas. But when we try to meet people's deepest emotional needs through lavish gifts, then we need to recall the warning word from the prophet Isaiah: "Why do you spend … your wages for what does not satisfy?" Instead, speaking for the Lord, the prophet then says: "Incline your ear and come to Me. Listen," says the Lord, "that you may live!" Hear the message of the angels this Christmas: "There is born for you today a Savior, who is Christ the Lord!" (Luke 2:11).

Dear God, forgive me for focusing on gifts of things instead of the real gift. May everything I give and receive this Christmas remind me of the precious gift of salvation through Jesus. Thank You. Amen.

Taken from A Message of Hope: Proclaiming the Promise (selections from messages broadcast on *The Lutheran Hour, celebrating 75 years of proclaiming the promise).

Copyright © 2005 by Lutheran Hour Ministries

*The Lutheran Hour is the longest-running Christian radio broadcast in the world. It is a production of Lutheran Hour Ministries. For more information, visit www.lutheranhour.org.

Today's Bible Readings: Ezra 8-10 Revelation 15
To Download Devotion MP3 to your computer, right click here and select "Save Link As" or "Save Target As" or "Download Linked File As"