"Shepherds"
---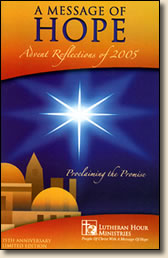 Today in the town of David a Savior has been born to you; he is Christ the Lord. Luke 2:11
As presented on *The Lutheran Hour® by Dr. Oswald C. J. Hoffmann, 1961

Reading or hearing the Christmas Gospel and coming to that part of it which tells us, "There were in the same country shepherds abiding in the field, keeping watch over their flock by night," we are ready for what follows. "And, lo, the angel of the Lord came upon them, and the glory of the Lord shone round about them."

We are ready for it, but the shepherds were not. The last thing those shepherds expected to see that quiet night on the fields of Bethlehem was an angel of the Lord. We are inclined to think of shepherds as homespun and plain-spoken fellows; poor but honest, close to the soil. By the people of Jerusalem or Bethlehem, however, shepherds were universally regarded as the scum of the earth. The first news of the birth of the Son of God came to men with dirty hands and smelly clothes, far out on the fringes of society, some of whom may have been pious in their peasant homes, and some again may not.

The shepherds ran to Bethlehem to see if it could really be true. It was. They worshipped the Christ. And then they returned to their vocation. They were still shepherds, but now they were glorifying and praising God for all they had heard and seen, as it had been told them.

The shepherds all became preachers. They went back to the jobs they had to do. Their religion did not take them away from ordinary life. It just transformed the ordinary into something extraordinary.

Jesus, be present in my ordinary life and make it extraordinary. Amen.

Taken from A Message of Hope: Proclaiming the Promise (selections from messages broadcast on *The Lutheran Hour, celebrating 75 years of proclaiming the promise).

Copyright © 2005 by Lutheran Hour Ministries

*The Lutheran Hour is the longest-running Christian radio broadcast in the world. It is a production of Lutheran Hour Ministries. For more information, visit www.lutheranhour.org.

Today's Bible Readings: Psalms 77-78 Revelation 6
To Download Devotion MP3 to your computer, right click here and select "Save Link As" or "Save Target As" or "Download Linked File As"