"Herod"
---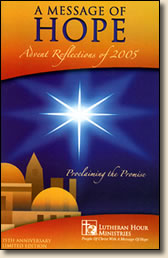 After Jesus was born in Bethlehem in Judea, during the time of King Herod, Magi from the east came to Jerusalem. Matthew 2:1
As presented on *The Lutheran Hour® by Dr. Oswald C. J. Hoffmann, 1961

He was called "the Great," this dictator Herod. He had big ideas and wanted to be remembered and liked. He had a strange way of showing it. His wife's brother was put to death at the age of 18 because the people had shown signs of taking a liking to him. His wife's grandfather, who once saved Herod's life, was executed at the age of 80. Herod publicly executed his wife and her mother. Two of his sons were strangled in prison by his orders when another son put the finger on them as possible conspirators. Later on the king had the other son killed, too.

Jesus was born at Bethlehem in Judea during Herod's reign. Dictators always live in the shadow of one great fear: the rise of a successor. If he had sent spies to investigate this new arrival threatening to become his new rival, they would have found just two people and a child. No court and no courtiers, no weapons but His two tiny hands; no trumpets but a child's cry.

Herod was troubled, but for the wrong reason. This was God's anointed, the Promised One, the Messiah come to redeem the world from all its greed, ambition, and hatred. Christ came to save even Herod.

No man is beyond the reach of the love of God. No man is so bad, not even a Herod, that he cannot be changed by the Christ of God. No life is so worthless and so misspent that it cannot be transformed through faith in the Christ, born to be King.

Prepare our hearts, O God, to receive our Savior. Help us to understand that there is forgiveness with You. In the name of Christ we pray. Amen.

Taken from A Message of Hope: Proclaiming the Promise (selections from messages broadcast on *The Lutheran Hour, celebrating 75 years of proclaiming the promise).

Copyright © 2005 by Lutheran Hour Ministries

*The Lutheran Hour is the longest-running Christian radio broadcast in the world. It is a production of Lutheran Hour Ministries. For more information, visit www.lutheranhour.org.

Today's Bible Readings: Psalms 74-76 Revelation 5
To Download Devotion MP3 to your computer, right click here and select "Save Link As" or "Save Target As" or "Download Linked File As"