"Why Did Jesus Come?"
---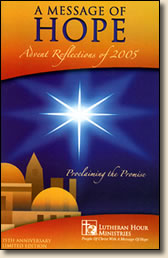 "For the Son of Man came to seek and to save what was lost." Luke 19:10
As presented on *The Lutheran Hour® by Dr. Andrew Melendez, 1960

Why did Jesus come? Why did the Eternal One limit Himself to live an earthly life? Why did the Son of God become the Son of Man?

Jesus Himself answered this question when, while visiting Zaccheus – a rich tax collector and publican – He said, "For the Son of Man came to seek and to save what was lost" (Luke 19:10).

Jesus came to save each and every one that comes to Him. He said, "… whoever comes to Me, I will never drive away" (John 6:37). He came to save the prodigal son as well as the older son. He came to save respectable women like Martha and Mary, and also adulteress ones, like the Samaritan woman He met at the well. He came to save notorious men like Nicodemus, one of the leaders of the Jews, and also the criminal crucified at His side.

That same Jesus is the one we're expecting in this Advent season, the one who's birth we'll commemorate in a few days, and the one that comes to us today and every day of our lives through His Word.

He wants to walk with us as we go through this life. He knows us by name. He wants to free us from the things that enslave us. He wants to forgive all that needs to be forgiven.

May each one of us put all our trust in Him, so that we can hear the same words that told Zaccheus, "Today salvation has come to this house…" (Luke 19:9). Amen.

Taken from A Message of Hope: Proclaiming the Promise (selections from messages broadcast on *The Lutheran Hour, celebrating 75 years of proclaiming the promise).

Copyright © 2005 by Lutheran Hour Ministries

*The Lutheran Hour is the longest-running Christian radio broadcast in the world. It is a production of Lutheran Hour Ministries. For more information, visit www.lutheranhour.org.

Today's Bible Readings: Zechariah 1-4 3 John
To Download Devotion MP3 to your computer, right click here and select "Save Link As" or "Save Target As" or "Download Linked File As"