"Behold the Glory of the Christ Child!"
---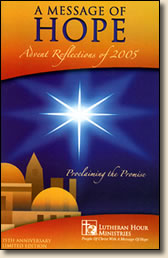 The Word became flesh and made his dwelling among us. We have seen his glory, the glory of the One and Only, who came from the Father, full of grace and truth. John 1:14
As presented on *The Lutheran Hour® by Dr. Walter A. Maier, 1940

No uncertainty lingers in Saint John's mind about the meaning and importance of Christmas. In plain language he testifies, "The Word was made flesh." Jesus Christ, called "the Word" because He conveyed the thoughts and the will of God as the words you speak express your will; that blessed Lord "was made flesh." Christmas, above all else, marks the glorious, victorious truth that the Son of God—eternal praise to His name!—left the majesty of His throne for the lowliness of the manger.

"We beheld His glory," Saint John writes. I submit to you that Saint John knew whereof he spoke. He was with the Savior from the beginning of His public ministry. John saw Christ both in His transfigured glory and in the deep humiliation of His atoning love, when at Calvary the crucified Lord spoke to him the only words directed to a disciple from the cross. When a man thus testifies on the basis of more than three years' personal experience that Jesus Christ is the Son of God, that during all this time he beheld His divine glory, such evidence should convince even the most skeptical.

This is the blessed glory of Christmas: when you behold in the Christ Child your God; when you join the entire Christian Church in saying, "I believe … in Jesus Christ, His only Son, our Lord, who was conceived by the Holy Ghost, born of the Virgin Mary," then you have a God who can wipe away sin, supply every want, defend in every distress, and deliver in every dark hour.

Prayer: God Almighty, may the Christ-child, the Word made flesh, today be born in my heart, adored and proclaimed in my life. Grant this for Jesus' sake! Amen.

Taken from A Message of Hope: Proclaiming the Promise (selections from messages broadcast on *The Lutheran Hour, celebrating 75 years of proclaiming the promise).

Copyright © 2005 by Lutheran Hour Ministries

*The Lutheran Hour is the longest-running Christian radio broadcast in the world. It is a production of Lutheran Hour Ministries. For more information, visit www.lutheranhour.org.

Today's Bible Readings: Ezekiel 45-46 1 John 2
To Download Devotion MP3 to your computer, right click here and select "Save Link As" or "Save Target As" or "Download Linked File As"