"Have You Room for the Christ Child?"
---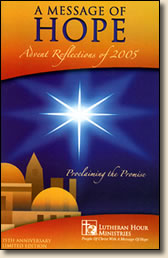 And she gave birth to her firstborn, a son. She wrapped him in cloths and placed him in a manger, because there was no room for them in the inn. Luke 2:7
As presented on *The Lutheran Hour® by Dr. Walter A. Maier, 1940

Luke tells us that "because there was no room for them in the inn," Mary laid her newborn Son in a manger. It was not by accident that the Savior's birthplace was in the small province of despised Judea, a vanquished, plundered country. The village of Bethlehem was small even according to that day's impoverished standards, and the manger was the humblest spot of that village.

These details were part of a divine plan to show God's mercy. Christ, through whom this universe and its vastness came into being, loved every one of us with a heavenly devotion so wide that for the ransoming of our souls from death He became man.

This lowly birth at Bethlehem foreshadows the free approach every sinner can have to the sin-bearing Savior. Suppose Jesus had been born in a royal palace. How He would have been guarded that only a select few might behold Him from a distance! But no guards surround a stable. No certificates are demanded for the inspection of a public manger. Did this not reflect the full grace of the infant Jesus? As the shepherds, far down on the scale of human society in that day, were the first to hasten to the manger, today every one of us has the unconditional invitation of Jesus: "Come unto Me, all ye that labor and are heavy laden, and I will give you rest." As sinners we can go to Him just as we are, trusting only but wholly in the power of His blood to save us to the uttermost.

Prayer: Come to us, abide with us, bless us, now and forever, Christ of endless compassion. Amen.

Taken from A Message of Hope: Proclaiming the Promise (selections from messages broadcast on *The Lutheran Hour, celebrating 75 years of proclaiming the promise).

Copyright © 2005 by Lutheran Hour Ministries

*The Lutheran Hour is the longest-running Christian radio broadcast in the world. It is a production of Lutheran Hour Ministries. For more information, visit www.lutheranhour.org.


Today's Bible Readings: Ezekiel 37-39 2 Peter 2
To Download Devotion MP3 to your computer, right click here and select "Save Link As" or "Save Target As" or "Download Linked File As"