"God's Unspeakable Gift"
---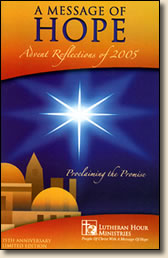 Thanks be to God for his indescribable gift! 2 Corinthians 9:15
As presented on *The Lutheran Hour® by Dr. Walter A. Maier, 1938

When Saint Paul calls Christ God's "unspeakable gift," he is not polishing his style with impressive phraseology. The blessing of the Savior's Gospel was as inexplicable to him as it must be to us. The apostle uses a term here which means one cannot bring out or express the blessing, the fullness, the glory, the riches, the value, of this divine gift.

Equally "unspeakable" is the mercy granted to us in the birth of Jesus. It has been custom to remember with our gifts those who are near and dear to us, to whom we are bound by ties of friendship or indebted by obligation. The great gift of Christ is granted not to God's friends, but to His enemies, to those who in their sins have risen up against God and declared war against the Almighty.

Christ came to save. Blessed assurance! But more: He came to "save … to the uttermost," so that no sin is too great, no sinner too vile, to be blessed, when penitent and believing, by this gift. No conditions are attached to this gift of God in Christ. It is the free, gracious, unearned, unmerited gift of God to those who with the humility of the shepherds and the reverence of the Magi believe with a personal and trusting faith that Jesus is the ransom of their souls. Christ came to save. But more: He came to bring with His salvation doubt-destroying conviction. The gift of His grace gives the exultant conviction that nothing in life or death "shall be able to separate us from the love of God which is in Christ Jesus."

Prayer: Thank You, God, for the unspeakable Gift of Jesus. Amen.

Taken from A Message of Hope: Proclaiming the Promise (selections from messages broadcast on *The Lutheran Hour, celebrating 75 years of proclaiming the promise).

Copyright © 2005 by Lutheran Hour Ministries

*The Lutheran Hour is the longest-running Christian radio broadcast in the world. It is a production of Lutheran Hour Ministries. For more information, visit www.lutheranhour.org.

Today's Bible Readings: Ezekiel 33-34 1 Peter 5
To Download Devotion MP3 to your computer, right click here and select "Save Link As" or "Save Target As" or "Download Linked File As"