"Sign of the Cross"
---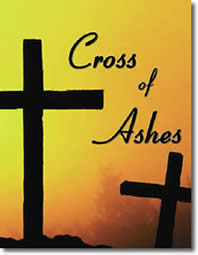 May I never boast except in the cross of our Lord Jesus Christ, through which the world has been crucified to me, and I to the world. Galatians 6:14
Have you ever counted the number of crosses in your church? Ours has 10 just in the chancel area. In your community? In the Bible-belt South, I counted 114 in 10 blocks before giving up.

I have crosses in my home, my office, and my jewelry box. But my favorite cross is one I carry with me: the sign of the cross. It's a "prayer in action," which goes back to the early centuries of the church: Using my thumb and first two fingers (three reflecting the Trinity), I touch my forehead, middle chest, left, then right shoulder with the words: "In the name of Father, and of the Son, and of the Holy Spirit."

In making this cross, I show my faith in the Triune God and my redemption in Christ crucified. Making the sign of the cross, I remember that I am sealed by the Holy Spirit and marked with Christ's cross at my baptism. With this cross, the pastor assures me of forgiveness of sins, blesses the Holy Supper, and gives the benediction.

During Lent, as we reflect on the cross, we join with Christians through the centuries by making the sign of the cross, a practice Martin Luther encouraged during home devotions. The cross shows the cost of our redemption: the holy, innocent, bitter suffering and death of our beloved Savior, Jesus Christ. I claim that I am His and He is mine under the sign of the cross.

Prayer: Help me grow in the grace and knowledge of my Lord and Savior Jesus Christ. To Him be glory both now and forever! Amen.

Response: Practice making the sign of the cross during your devotions today.

(Devotions from "Cross of Ashes" by Christine Weerts, a Lenten devotional provided by Lutheran Hour Ministries. Copyright 2005, Int'l LLL. All Rights Reserved. No part of this publication may be printed, reproduced, stored in a retrieval system, or transmitted, in any form or by any means, electronic, mechanical, photocopying, recording or otherwise, without prior written permission of Concordia Publishing House. Permission is granted for one-time emailing of this link to a friend.)

Today's Bible Readings: Leviticus 21-22 Mark 10:1-31
To Download Devotion MP3 to your computer, right click here and select "Save Link As" or "Save Target As" or "Download Linked File As"