"As You Grow Older …"
---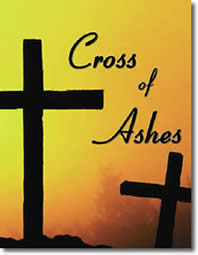 Since my youth, O God, You have taught me, and to this day I declare Your marvelous deeds. Even when I am old and gray, do not forsake me, O God, till I declare Your power to the next generation, Your might to all who are to come. Psalm 71:17-18
One way to know you are growing older is the number of conversations that begin with, "As you grow older ..." These are not happy talks! "As you grow older" is usually followed with a recitation of troubles—failing eyesight, weight gain, muscle aches, dental troubles, and so on. All yours, it seems, as you grow older.

Despite our culture's obsession with youth, growing older doesn't have to depress us. We can see it as an opportunity to grow deeper in our faith. "As you grow older," you can grow in your appreciation for worship, morning devotions, prayer, the fellowship of believers. "As you grow older," you can reflect on the years of God's steady hand in your life and recite His saving grace.

Our Lenten journey begins with ashes, a reminder of our mortality due to sin, a sure conviction that we are growing older, every one of us. But from this beginning, we can grow through Lent into people who more deeply love and revere our Lord, whose suffering and sacrifice we remember.

I may not like the discovery of another gray hair or wrinkle any more than the next person, but I know that as I grow older, with God's grace, He will help me grow wiser and kinder, more able to show others His timeless love. I can echo David: "I was young and now I am old yet I have never seen the righteous forsaken" (Psalm 37:25).

Prayer: Jesus, You are the same yesterday, today, and always. I praise You! Amen.

Response: Count the ways you are growing better.

(Devotions from "Cross of Ashes" by Christine Weerts, a Lenten devotional provided by Lutheran Hour Ministries. Copyright 2005, Int'l LLL. All Rights Reserved. No part of this publication may be printed, reproduced, stored in a retrieval system, or transmitted, in any form or by any means, electronic, mechanical, photocopying, recording or otherwise, without prior written permission of Concordia Publishing House. Permission is granted for one-time emailing of this link to a friend.)

Today's Bible Readings: Leviticus 17-18 Mark 9:1-29
To Download Devotion MP3 to your computer, right click here and select "Save Link As" or "Save Target As" or "Download Linked File As"