"Cleaning the Refrigerator"
---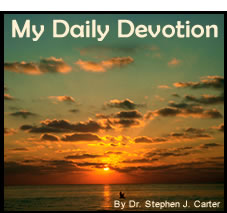 All of us have become like one who is unclean, and all our righteous acts are like filthy rags. Isaiah 64:6
Baking may provide blessings, but cleaning the refrigerator, that's another matter. The refrigerator looks shiny on the outside. What modern kitchen can survive without a refrigerator to preserve food and keep drinks cold? We fill it with produce, meat, and dairy products. We store leftovers for use at a later time. What a service to the family!

But then comes the time for cleaning. Nothing else will fit inside. The process begins. Everything removed. Plastic containers emptied. Spoiled food everywhere. Black and green mold. Heavy glass jars discarded. Soap applied inside. Elbow grease on the sponge. At last sparkling clean and plenty of room! The cycle begins again.

How much our life resembles a refrigerator! Shiny on the outside. Potentially useful to others. Constantly taking in words and experiences from the world, stored for future use. But then we have to examine the inside. "All of us have become like one who is unclean, and all our righteous acts are like filthy rags." Within our rebellious hearts the world's input quickly sours and molds. We are so cluttered that our ability to help others is hindered. Only God can clean us properly. The sins confessed and removed are covered by the blood of Christ. The waters of Baptism continue to cleanse us daily. Sparkling clean in Christ and useful again for service, we begin again the cycle of God's love as we live for Him. What a lesson from cleaning the refrigerator!

PRAYER: Lord Jesus, remove the clutter of sin from my life so that I may continue to serve You. Amen.

(Devotions from "My Daily Devotion" by Dr. Stephen J. Carter, copyright 1988 CPH. All Rights Reserved. No part of this publication may be printed, reproduced, stored in a retrieval system, or transmitted, in any form or by any means, electronic, mechanical, photocopying, recording or otherwise, without prior written permission of Concordia Publishing House. Permission is granted for one-time emailing of this link to a friend. For ordering information, please contact CPH at 800-325-3040 or visit www.cph.org.)

Today's Bible Readings: Daniel 5-7 Titus 3
To Download Devotion MP3 to your computer, right click here and select "Save Link As" or "Save Target As" or "Download Linked File As"