"The World Series: Thoughts for the Faith Life"
---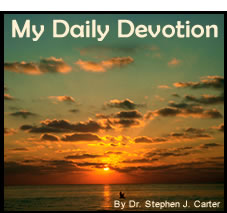 Now faith is being sure of what we hope for and certain of what we do not see. Hebrews 11:1
Hebrews 11 and 12 illustrate the faith life by presenting examples of great heroes of faith. Baseball's World Series with heroes galore sparks some thoughts on our faith in Jesus Christ.

There's something almost religious about a World Series. The true fan radiates undying loyalty toward the favorite team, year in and year out, no matter what the record. Along with loyalty comes a sense of trust. In the fire of intense World Series competition, the fan believes in the popular slugger, fastball pitcher, or manager, even after they fall short a time or two. For every dyed-in-the-wool baseball fan there is a future hope. If the team doesn't make the Series, even if they finish in the cellar, the fan always looks ahead to next year.

Loyalty, trust, and hope for the future are joined by a type of exciting ritual service – a half hour of pregame activities, the formal introduction of players, the singing of the National Anthem, the throwing out of the first ball, the home team taking the field, the first batter digging in at the plate, the seventh-inning stretch, the sweet taste of victory, and then retelling the story of victory to everyone within earshot.

The same ingredients characterize the life of faith. Loyalty to God, unswerving even when the going gets tough and we are outnumbered by the skeptics. Trust in God's promises. We believe firmly that God loves us and has freed us by sending His own Son to suffer and die for our sins. A future hope, that God will complete our joy and give us eternal life in heaven.

PRAYER: Dear heavenly Father, graciously fill us with loyalty, trust, hope, and joyful worship so that we may live as Your forgiven children. Amen.

(Devotions from "My Daily Devotion" by Dr. Stephen J. Carter, copyright 1988 CPH. All Rights Reserved. No part of this publication may be printed, reproduced, stored in a retrieval system, or transmitted, in any form or by any means, electronic, mechanical, photocopying, recording or otherwise, without prior written permission of Concordia Publishing House. Permission is granted for one-time emailing of this link to a friend. For ordering information, please contact CPH at 800-325-3040 or visit www.cph.org.)

Today's Bible Readings: Isaiah 62-64 Romans 12
To Download Devotion MP3 to your computer, right click here and select "Save Link As" or "Save Target As" or "Download Linked File As"