"Witnessing Excuses: Moses and You – No. 2"
---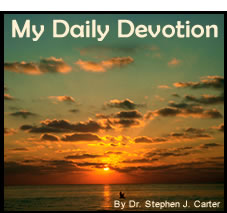 Moses said to God, "Suppose I go to the Israelites and say to them, 'The God of your fathers has sent me to you,' and they ask me, 'What is His name?' Then what shall I tell them?" Exodus 3:13
Moses presents a second excuse which stands in the way of the liberation challenge. He questions God's identity. He wants to know God's name. Moses really wants that certainty for himself, so that he can go to Israel and then to Egypt's leader.

When God presents us with the witnessing challenge, we also raise the question about His identity. We may frame the questions in terms of other people, "What if they ask me about who my God is? What if they ask me theological questions I can't answer?" But we want that certainty about God's identity for ourselves.

God answers Moses' second excuse by telling him, "I AM WHO I AM. This is what you are to say to the Israelites: 'I AM has sent me to you'" (Exodus 3:14). He is Yahweh, the eternal, all powerful God who gives life to the world. He will continue to act in the history of His people, bringing them salvation through His Son, the Messiah.

God answers our second excuse with the same clarification: "I am who I am." We see Him as the covenant God of the Old Testament. We see Him in Jesus Christ, the Word-Made-Flesh, who said: "I am the Bread of Life (John 6:35) … the Resurrection and the Life (John 11:25) … the Way, and the Truth and the Life (John 14:6)." Crucified and risen, Jesus also said, "I am with you always" (Matthew 28:20). Assured of God's identity, we have fresh power to witness to His love within our church and out in the world where we live daily.

PRAYER: Dear Father, thank You for revealing Yourself to us in Your Son Jesus Christ. Continue to deepen our understanding of Your identity so that we may witness more boldly about Your love. Amen.

(Devotions from "My Daily Devotion" by Dr. Stephen J. Carter, copyright 1988 CPH. All Rights Reserved. No part of this publication may be printed, reproduced, stored in a retrieval system, or transmitted, in any form or by any means, electronic, mechanical, photocopying, recording or otherwise, without prior written permission of Concordia Publishing House. Permission is granted for one-time emailing of this link to a friend. For ordering information, please contact CPH at 800-325-3040 or visit www.cph.org.)

Today's Bible Readings: Isaiah 5-6 2 Corinthians 13
To Download Devotion MP3 to your computer, right click here and select "Save Link As" or "Save Target As" or "Download Linked File As"