"Learning Still?"
---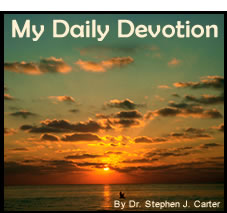 Teach a righteous man and he will add to his learning. Proverbs 9:9
School days. Graduations. Finished at last. You may feel saturated with learning and content just to live a little. However we never stop learning as long as we live. In our rapidly changing society, everyone struggles to keep abreast of constantly growing knowledge. Who would have expected that computers would become so essential to daily life? If learning stops, we can scarcely adapt to modern life.

Unfortunately, we also may think of our knowledge of God and His Word in terms of graduation. We attended Sunday school and perhaps a Christian elementary school. We received confirmation instruction. Now we think we have arrived!

The writer of Proverbs would disagree. Mockers refuse to learn or accept correction. But Proverbs 9:9 tells us, "Instruct a wise man and he will be wiser still; teach a righteous man and he will add to his learning." The righteous person, declared righteous by Christ's death on the cross, rejoices in salvation and never ceases to want more knowledge about God's love in Christ. Humbly and simply, the wise come to the waters of life again and again for a drink. Not like a cup, which fills with water and can hold no more, but rather like a sponge, which absorbs more and more water, the wise keep learning and sharing with others.

God' Spirit creates in us the desire to absorb more and more of God's good news. The more we live for Christ like a sponge emptying, the more we need to learn like a sponge absorbing. Jesus Christ fills our lives with His forgiving love. Yes, as God's wise and righteous people, we are learning still!

PRAYER: Lord God, help me to keep learning like a sponge absorbing You and Your plan of salvation for us. Guide me to share this knowledge with others. Amen.

(Devotions from "My Daily Devotion" by Dr. Stephen J. Carter, copyright 1988 CPH. All Rights Reserved. No part of this publication may be printed, reproduced, stored in a retrieval system, or transmitted, in any form or by any means, electronic, mechanical, photocopying, recording or otherwise, without prior written permission of Concordia Publishing House. Permission is granted for one-time emailing of this link to a friend. For ordering information, please contact CPH at 800-325-3040 or visit www.cph.org.)

Today's Bible Readings: 2 Chronicles 19-20 2 Corinthians 7
To Download Devotion MP3 to your computer, right click here and select "Save Link As" or "Save Target As" or "Download Linked File As"