"Faith That Works"
---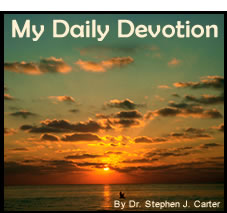 "Woman, you have great faith! Your request is granted." Matthew 15:28
The Canaanite woman has saving faith in Jesus Christ, so her faith works in her life. With Jesus traveling near Tyre and Sidon, the woman demonstrates her God-given faith by crying out, "Lord, Son of David, have mercy on me!" (Matthew 15:22). And she is an outsider. We often feel that God is not for us, perhaps for pastors and "strong" Christians, but not for us. But this Canaanite woman looks not to her faith but to her God. Faith in Jesus Christ as Savior works because we have a great God.

The woman comes with faith in God to meet a specific need: My daughter is suffering terribly from demon-possession." Her faith is severely tested. First silence. "Jesus did not answer a word." Then ridicule. The disciples urged Jesus, "Send her away for she keeps crying out after us." Finally discouragement from Jesus. "I was sent only to the lost sheep of Israel." And further, "It is not right to take the children's bread and toss it to their dogs." But the woman, believing that Jesus can heal her daughter, persists. "Lord, help me!" And again, "Yes, Lord, but even the dogs eat the crumbs that fall from their masters' table." The woman's God-given faith works. Jesus answers, "Woman, you have great faith! Your request is granted." And the daughter is healed from that very hour. (see Matthew 15:21-28).

Blessed with God's gift of saving faith, we come to Him with our specific needs – strength in financial crisis, restored health, wisdom in difficult decisions. Our faith is often tested. First silence. No apparent answer from God. Then ridicule. Others mock our faith as they seemingly prosper. Finally discouragement. "Maybe your faith isn't strong enough." By God's grace we persevere. Christ's death and resurrection brings us forgiveness, life, and salvation. We continue to pray with the woman "Lord, help me!" And He does – in His own way and at His own time, because He has given us freely a faith that works!

PRAYER: Lord, thank You for a faith that works. Amen.

(Devotions from "My Daily Devotion" by Dr. Stephen J. Carter, copyright 1988 CPH. All Rights Reserved. No part of this publication may be printed, reproduced, stored in a retrieval system, or transmitted, in any form or by any means, electronic, mechanical, photocopying, recording or otherwise, without prior written permission of Concordia Publishing House. Permission is granted for one-time emailing of this link to a friend. For ordering information, please contact CPH at 800-325-3040 or visit www.cph.org.)

Today's Bible Readings: 2 Chronicles 17-18 2 Corinthians 6
To Download Devotion MP3 to your computer, right click here and select "Save Link As" or "Save Target As" or "Download Linked File As"