"A Lesson in Faith: Getting Out of the Boat"
---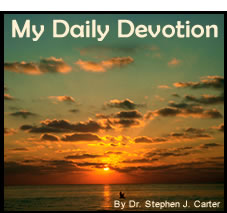 Then Peter got down out of the boat, walked on the water and came toward Jesus. Matthew 14:29
The lesson in faith continues. Reassured by the voice of Jesus, Peter boldly asserts, "Lord, if it's You, tell me to come to You on the water" (Matthew 14:28). Then he gets out of the boat and walks on the waves toward Jesus. Impetuous? Yes. But nevertheless a genuine faith response to do the impossible.

"Get out of the boat to serve others," Jesus tells us. "Don't just play it safe." Reassured by His voice, we get out of the boat and walk on the water to Him as we serve Him.

But then fear returns. A second test of faith. Peter looks at the waves and feels the wind. Afraid and beginning to sink, he cries out, "Lord, save me!" (Matthew 14:30). Problems enough in the boat, but out here on the water, only a watery grave!

We, too, learn the meaning of fear when we step out of the boat. We reach out to others, take risks for the Lord, testify to our faith in Christ. In the process we often take our eyes off Jesus and look at the waves. We begin to sink. Desperately afraid, we cry out, "Lord, save me!"

Immediately Jesus reached out His hand and caught Peter. When they climbed into the boat, the wind died down. A third lesson in faith. Jesus said to Peter, "You of little faith, why did you doubt?" (Matthew 14:31). Those in the boat worshiped Him, saying, "Truly You are the Son of God" (Matthew 14:33). And they traveled on to land, where they got out of the boat to continue ministering to people.

Recognizing our fear and weakness, Jesus reaches out His hand and catches us, guiding us safely to the boat. Our sin of doubt rebuked, we see Jesus as the true Son of God and our Savior. We follow Him to land and get out of the boat again to minister to people in need.

PRAYER: Jesus, sustain me in the stormy waves and strengthen my faith in Your salvation so that I may serve You daily. Amen.

(Devotions from "My Daily Devotion" by Dr. Stephen J. Carter, copyright 1988 CPH. All Rights Reserved. No part of this publication may be printed, reproduced, stored in a retrieval system, or transmitted, in any form or by any means, electronic, mechanical, photocopying, recording or otherwise, without prior written permission of Concordia Publishing House. Permission is granted for one-time emailing of this link to a friend. For ordering information, please contact CPH at 800-325-3040 or visit www.cph.org.)

Today's Bible Readings: 2 Chronicles 15-16 2 Corinthians 5
To Download Devotion MP3 to your computer, right click here and select "Save Link As" or "Save Target As" or "Download Linked File As"